Featured Recipe: Chipotle-stuffed sweet potatoes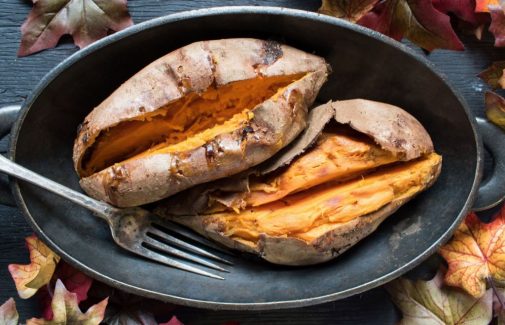 Cori Rosen, a registered dietitian at Advocate Sherman Hospital in Elgin, Ill., says that selecting tasty foods that provide fiber doesn't have to be difficult.
"Dietary fiber — found mainly in fruits, vegetables, whole grains and legumes — is often best known for its ability to prevent or relieve constipation," she says. "But foods containing fiber can provide other health benefits, as well, such as helping to maintain a healthy weight and lowering your risk of diabetes and heart disease."
Ingredients
4 small sweet potatoes, baked
1 (15 oz) can black beans, rinsed and drained
1 cup corn
3 green onions, thinly sliced
1/2 cup cilantro, chopped
Vinaigrette
2 limes, zested and juiced
1 tbsp oil
2 tsp honey
2 tsp adobo sauce (from a can of chipotles in adobo)
1/2 tsp pepper
Instructions
In a bowl, add the black beans, corn, onions and cilantro. Stir to combine.
In a smaller bowl, mix the lime zest and juice, oil, honey, adobo and pepper.
Pour over the black bean mixture and toss to combine.
Slice open the baked sweet potatoes. Stuff potatoes with the chipotle black bean and corn salad. Serve.
Nutrition Facts per serving (4 servings)
Calories 301, Fat 4.9g, Carb 57.2g, Fiber 11.8 g, Sugar 7.4g, Protein 10.6g, Sodium 423mg
Related Posts
Comments
About the Author
Jennifer Benson, health enews contributor, is coordinator of public affairs for Advocate Aurora Health. She has 10+ years of community development and communication experience for non-profits and has a BA in Architecture from Judson University in Elgin, IL. Outside of work, you can find her planning the next adventure near water or rocks, re-organizing spaces, working on her Master's in Public Health, caring for her senior citizen cat, keeping to healthy moving and eating disciplines and growing green things wherever she can find room.