Featured Recipe: Pumpkin butter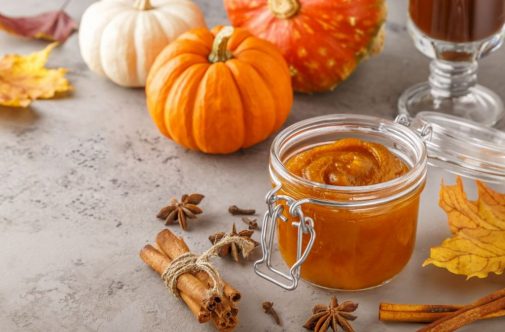 The fall and winter seasons are packed with reasons to eat for people of all nationalities, faiths and backgrounds, often accompanying major holidays.
For days where you want some fall flavor without committing to a multi-course meal (or making a full pie), pumpkin butter over a piece of toast can be just the ticket, says Elizabeth Zawila, a registered dietitian at Advocate Good Samaritan Hospital's Health and Wellness Center in Downers Grove, Ill.
The squash is an excellent source of beta-carotene and vitamin A, as well as a source of Vitamin C and a handful of other vitamins and minerals. Whether you use canned puree or roast your own pumpkin, you can customize the flavor of each batch to best suit your fall food preferences.
Pumpkin Butter
Makes 20 servings
29-oz. can pumpkin puree
2/3 cup apple juice
2 tsp. ground ginger
½ tsp. ground cloves
1 1/3 cup white sugar
2 tsp. ground cinnamon
1 tsp. ground nutmeg
In a large saucepan, combine pumpkin puree, apple juice, spices and sugar.
Bring mixture to a boil, then reduce heat to a simmer.
Continue to simmer for 30 minutes, stirring frequently until thickened.
Refrigerate until ready to serve.
Nutrition info: 78 Calories, 0 g fat, 98 g sodium, 18 g carbohydrate, 1.5 grams fiber, 0.5 g protein
Related Posts
Comments
About the Author
Nathan Lurz, health enews contributor, is a public affairs coordinator at Advocate Good Samaritan Hospital. He has nearly a decade of professional news experience as a reporter and editor, and a lifetime of experience as an enthusiastic learner. On the side, he enjoys writing even more, tabletop games, reading, running and explaining that his dog is actually the cutest dog, not yours, sorry.