Is this the secret to eating healthy this holiday season?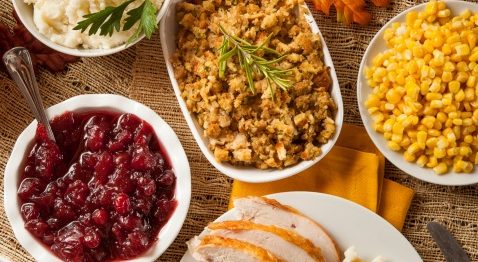 If you're trying to watch your caloric intake, Thanksgiving dinner requires more than a little willpower. It's easy to say you'll avoid the temptations, but you're most likely doomed to overindulge unless you have a plan.
"You can still enjoy a flavorful Thanksgiving dinner while being mindful of the choices you make," says Lynnette Becker, senior clinical dietitian at Advocate Good Shepherd Hospital in Barrington, Ill. "If you're preparing a dish with dairy products, consider non-fat or low-fat options. Swap sour cream for Greek yogurt to boost the protein while not sacrificing flavor in dips and other dishes calling for sour cream. If you're bringing the vegetables, consider oven roasting them with fresh herbs and a touch of heart-healthy olive oil instead of frying. "
Here are more suggestions from Becker for healthier eating this Thanksgiving:
Consider fresh fruit for dessert
Serve whole-grain breads
Hold the salt! Flavor your foods with herbs like basil, oregano, thyme and rosemary. Choose low-sodium broths and low-sodium or salt-free canned items when called for in recipes.
Take smaller portions and only one serving rather than two or three
Use smaller plates
Drink beverages with fewer calories or splurge on one drink you love, then refill your glass with water
What's more, this is a holiday meant for visiting and giving thanks. Make that your focus. Instead of having that second helping of stuffing, go cozy up to the aunt and uncle you haven't seen for months and let them know they are loved. That, after all, is going to make you feel a lot better inside than dessert with whipped cream on top.
Related Posts
Comments
About the Author
Kathleen Troher, health enews contributor, is manager of public affairs and marketing at Advocate Good Sheperd Hospital in Barrington. She has more than 20 years of journalism experience, with her primary focus in the newspaper and magazine industry. Kathleen graduated from Columbia College in Chicago, earning her degree in journalism with an emphasis on science writing and broadcasting. She loves to travel with her husband, Ross. They share their home with a sweet Samoyed named Maggie.