The life of a chaplain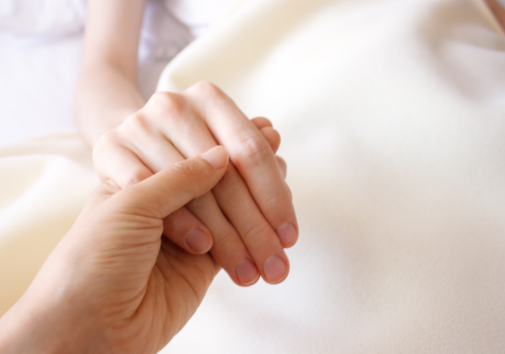 Some years ago, when I was working as an emergency room chaplain at one of our Advocate Aurora Health hospitals, a tragedy happened. A young man was shot, and despite the skilled work of the most talented doctors and nurses I have ever met, he died.
We were able to locate and contact just one family member – his father. He came to the hospital, and in the little consult room next to the Emergency Department, we gave him the terrible news that his son had died.
The man screamed and cried and wailed. When the other members of the team stepped away, I sat with him in that little room, where he continued to scream and cry and wail in disbelief, and it went on and on. But still I sat there with him. No words. I just sat with him.
He cried and cried and cried. He screamed "Why!?"at the top of his lungs. Over and over this continued, and I sat with him.
Finally, after a long time, maybe out of sheer exhaustion, he quieted down. I encouraged him to breathe deeply, the first words I had spoken. He breathed deeply and finally sort of looked at me and asked a question.
"So is it like your job to sit with people like me in situations like this?"
"Well, yes, it is," I answered.
"Dude, your job sucks," he said quietly.
But then he said something I will never forget.
"Today is the worst day of my life," he said. "But I can't imagine what it would be like if I had to sit here all alone."
What exactly is it that chaplains actually do? What difference do they make, and why exactly is it that despite saying practically nothing, the presence of the chaplain made an impact on that man and on others like him?
New research at Advocate Aurora Health has begun to shed an interesting light on these questions. Supported by a generous grant from the John Templeton Foundation and New York-based Health Care Chaplaincy Network, chaplains and researchers accomplished an 18-month mixed methods review of chaplain work and produced an inventory of what chaplains do and what outcomes they achieve. This inventory is known as the Chaplaincy Taxonomy.
In it, outcomes are described as Intended Effects, that is, what the chaplain hopes to accomplish. A scan of the Intended Effects list illuminates what outcomes the chaplain with the man whose son had died might have accomplished.
Journeying with someone in the grief process, demonstrating care and concern and lessening someone's feelings of isolation are just three examples of what outcomes helped that man feel an impact from the chaplain's presence that terrible day.
When chaplains use a consistent set of shared terminology to describe their interventions and outcomes, it also makes it easier for inter-disciplinary team members to understand what impacts chaplains can make, and it makes it easier for them to ask for chaplain services to match the needs they may see in their patients and their families.
It also makes it easier for patients, helping them understand when they might need, request or want a chaplain in their time of need.
Related Posts
Comments
About the Author
Reverend Kevin Massey, health enews contributor, is the System Vice President of Mission and Spiritual Care for Advocate Aurora Health. He has more than 20 years of health care chaplaincy experience. Kevin is a frequent writer and speaker on topics in spiritual care and chaplaincy training.