Music to a mother's ears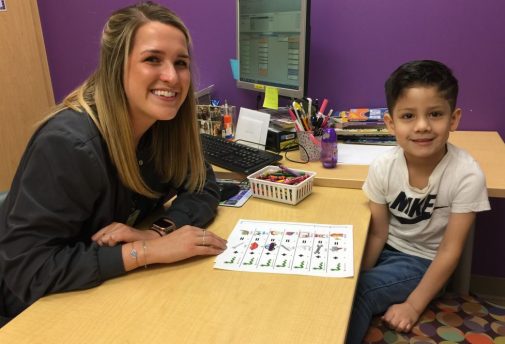 At the age of 4, Anthony Posadas Ocampo had a vocabulary that consisted of nothing more than two utterances. That was 16 months ago, when he first started seeing Amy Mizera, a speech-language pathologist at Advocate Condell Medical Center in Libertyville, Ill. Anthony could comprehend what was being asked and could follow instructions, but he was unable to produce sounds appropriately.
Working weekly with Mizera and practicing at home with his mom and other family members, Anthony has made significant gains. Now when he speaks, it's music to mother Nadia's ears.
"It was my fear that I would never get to hear my son speak. Now, his words fill my heart," she says. "I didn't want him to struggle in school. I didn't want him to be bullied. And now, thanks to Amy, he has made incredible progress."
"Amy is like a little angel that has come into our life. She has done so much for Anthony."
Anthony isn't alone. Whether she is working with children or adults, Mizera has a primary focus, and it's one shared by others in her profession. Their goal: effective communication. With children, often that means helping them produce sounds more clearly so they are understood. As that ability improves, so does the courage to engage in conversation. With adults, sometimes that means re-teaching methods of communication for those who have suffered strokes or trauma.
"Communication has two parts: understanding what is being said, which is receptive communication, and then being able to express what you want to say appropriately and effectively, which is expressive communication," Mizera explains. "So we work to assist people who are having trouble understanding what is being said and then help them effectively communicate."
"This could be verbally, with gestures, or with augmentative alternative communication devices like iPads for those who are nonverbal. We also treat social communication, also called pragmatics, to help children engage with their peers appropriately."
Mizera sees children with numerous delays or disabilities, everything from developmental delays to autism, Down syndrome, cerebral palsy or articulation and language disorders.
She also provides swallowing therapy. For trauma or stroke patients, this means helping them regain the ability to swallow appropriately so they can enjoy eating meals again. With children, swallowing therapy may be needed by those who are born with or acquire oral motor or feeding difficulties.
"We see many kids who have been placed on tube feedings, and our job is to collaborate with other professionals, such as GI doctors, nutritionists and others, to wean them off and get them eating by mouth," Mizera says.
Whether speaking or eating, the mission is to establish expression and sustenance of the inner person – a most basic human need.
Related Posts
Comments
About the Author
Kathleen Troher, health enews contributor, is manager of public affairs and marketing at Advocate Good Sheperd Hospital in Barrington. She has more than 20 years of journalism experience, with her primary focus in the newspaper and magazine industry. Kathleen graduated from Columbia College in Chicago, earning her degree in journalism with an emphasis on science writing and broadcasting. She loves to travel with her husband, Ross. They share their home with a sweet Samoyed named Maggie.