Is nail cancer a thing?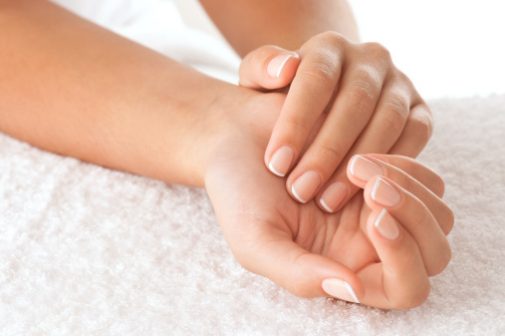 For many women, stopping by the nail salon for a fresh coat of polish every few weeks is simply a part of their routine. With an ever-growing array of not only colors and designs, but also longer-lasting application methods that can be applied at home and at the salon, it has become easier than ever to get and maintain the perfect manicure.
Yet, these advancements do have their downsides. While services like gel and no-chip manicures make it a breeze to have unchipped nails all day every day, this constant coverage could leave nails vulnerable to side effects including thin, weak or brittle nails. Even worse, a manicure can mask the signs of one of the most dangerous forms of skin cancer—subungual melanoma.
Defined as skin cancer originating beneath the fingernail or toenail, subungual melanomas are rare and may be difficult to identify.
"These melanomas account for only 0.7-3.5 percent of all malignant melanomas," explains Dr. Martha Arroyo, a dermatologist with Advocate Condell Medical Center in Libertyville, Ill.
However, rarity is also what makes this form of skin cancer so dangerous. Individuals oftentimes ignore the most common sign of a subungual melanoma or mistake it for a bruise or fungal infection.
Most subungual melanomas occur on the thumb or big toe and can be identified by a dark line running down the length of the nail, perpendicular to the cuticle. While research has not found a definite link between nail polish and manicures and this form of cancer, consistent use of such products and services can easily leave this telltale line undetected for weeks or months, during which time the melanoma may spread to other parts of the body.
Depending on the severity of cancer at the time of diagnosis, this could result in the loss of the nail, finger or worse.
While it's possible for similar markings to form under the nail from a bruise or fungal infection, dermatologists suggest getting any suspicious-looking markings looked at by a health care professional sooner than later. This is especially true for individuals of certain ethnic backgrounds.
"While subungual melanoma is not as common as other forms of skin cancer, it does tend to afflict certain ethnic groups more than others," explains Dr. Arroyo. "Diagnoses tend to be higher with individuals of African, Asian and Latin American descent."
The same goes for individuals over 50, with a history of trauma to the fingers or toes or with a preexisting immunosuppressive disorder, as these factors may also increase risk.
As for women who keep their nails covered by polish, don't worry–there is no reason to nix your manicure fix just yet, so long as you stay alert. Simply taking a few moments to check your nails for abnormalities each time you remove old polish could make all the difference in catching this dangerous condition before it's too late.
Related Posts
Comments
About the Author
Katie Helander, health enews contributor, is a public affairs and marketing intern for Advocate Condell Medical Center in Libertyville, Ill. She is currently pursuing her BA in public relations and minors in international communication and Spanish at Illinois State University, where she also serves as the Chapter President of the Public Relations Student Society of America. In her free time, Katie enjoys theatre, traveling, working out, and learning new things. After graduation, she plans to pursue a career in international relations or with a major public relations agency.