A festival of food temptations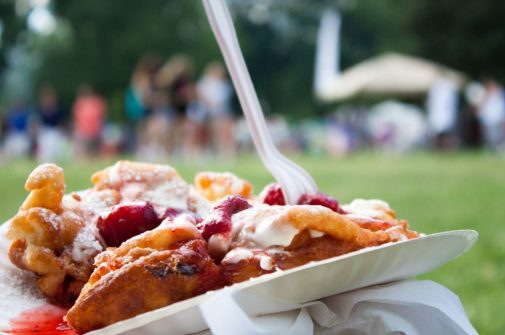 Summertime means it's time for fairs and festivals. And fair food, too.
Typically, fair food is fried, on a stick, sweet, covered in chocolate or some combination of all of those things. Heather Klug, a registered dietitian with the Karen Yontz Women's Cardiac Awareness Center at Aurora St. Luke's Medical Center in Milwaukee, Wis., says it can be incredibly easy to undo a week or more of healthy eating by overeating at a festival or party.
"I equate it to the gas tank in a car. It's very easy to put gas in the gas tank, but it takes a much longer time to burn it off," Klug says. "It's super easy to consume thousands of calories in a short period of time. It's not as easy to burn off thousands of calories."
There are some ways to be ready for a fun-filled trip to a fair or festival, whether it's a big event like Summerfest or Taste of Chicago, or your local church festival or county fair.
Klug offers these tips:
Avoid food that is deep-fried, highly processed or high in added sugars.
Split a treat with a friend.
Remember moderation: get one scoop of ice cream, not three.
Plan your food route, if you're able to, by checking out the location of healthier food items.
One thing Klug does not recommend, though, is skipping meals to "save" calories. Being very hungry tends to lead to overindulging. Watching your calorie intake during the week and days before a visit to a festival could help.
"Eating very healthfully all week may help 'bank' some calories for eating at fairs and festivals," she says. "But it's important to still try to be sensible with food choices and, above all, keep portion control in mind. Just one cream puff, not several."
Planning can also help you stay on track with healthy eating, Klug says.
"Mindfulness is especially important in high-temptation environments like fairs, festivals and parties," she says. "Even if you don't stick to your plan perfectly, the outcome will still be better than if you didn't plan at all."
Your plan should include:
Pre-visit preparation

Eat lighter, balanced meals during the day.
Consider a light snack with fiber and protein, such as nuts or yogurt, before heading to the event.
Try to plan food choices, if you can.

During your visit

Pick healthy options.
Beware of oversized portions and share items with someone.
Limit high-calorie treats to something you don't normally eat.
Limit alcohol and sugary beverage intake.
Walk around or dance as much as possible to balance out calories consumed.

After the event

Get right back on track with healthy eating and exercise.
Are you trying to watch your weight? Take a free, quick online risk assessment to learn more about your ideal weight by clicking here.
Related Posts
Comments
About the Author
Heather Collier works in the public affairs and marketing department for Advocate Health Care and Aurora Health Care. She is based in Milwaukee.