The mistake you might make when applying sunscreen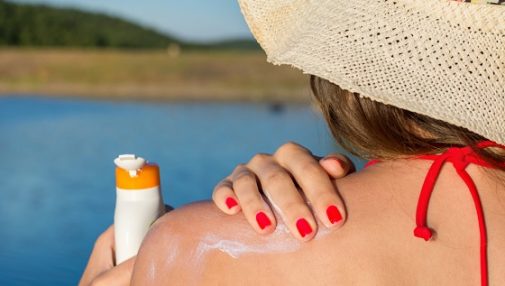 Lathering on any sunscreen before a fun day out in the sun? You might not be applying enough.
Researchers at the University of Minnesota Medical School dispensed free sunscreen at the 2016 Minnesota State Fair, where 2,187 fair-goers used the product. Of this group, the researchers found that only one-third lathered the sunscreen to every exposed area of skin.
They also found the users were more likely to apply sunscreen to their arms (51%) and less likely to spread the product to their face (42%), chest (6%) and legs (3.6%).
One in every five Americans will develop some form of skin cancer in their lifetime, according to the American Academy of Dermatology. Most cases of skin cancer are linked to exposure to the sun's UV rays.
These study results demonstrate that sunscreen is frequently inadequately applied or avoided all together, and there are varying reasons for this, says Dr. John Fox, a dermatologist at Advocate Illinois Masonic Medical Center. For instance, some people may not like the feeling of the lotion on their skin or may experience burning or stinging on the face or around the eyes.
Other barriers include lack of education on why we need sun protection and the need for reapplication, adds Dr. Stephen Carter, another dermatologist at Advocate Illinois Medical Center.
Dr. Carter and Dr. Fox provide the following tips and tricks for properly applying sunscreen:
Find a sunscreen that you like. There are many options to choose from, including creams, lotions, including gels. Also if you are sensitive to breakouts, burning or stinging, find a product with physical agents, like zinc oxide, rather than chemical ingredients.
Reapply sun block at least every two hours that you are in the sun. Also, reapply after excessive sweating or swimming.
Strive to use the equivalent of a full shot glass of sunscreen, which should cover the entire body of an average-sized adult.
Try to avoid sunscreen sprays, which can make it harder to cover exposed areas adequately and evenly, especially when it's windy.
Use products with SPF 30 or higher to properly protect your skin against harmful UV rays.
"It is true that applying sunscreen takes a little extra time and forethought, but the payoffs can be big. Staving off sun-induced skin aging and reducing the risk of skin cancer are proven benefits that are well worth the few moments it takes to apply sunscreen," Dr. Fox says. "Find a broad spectrum sunscreen that you like, apply liberally, and reapply often."
Related Posts
Comments
About the Author
Jaimie Oh, health enews contributor, is regional manager of public affairs and marketing at Advocate Health Care. She earned her Bachelor's Degree in Journalism from the University of Missouri-Columbia and has nearly a decade of experience working in publishing, strategic communications and marketing. Outside of work, Jaimie trains for marathons with the goal of running 50 races before she turns 50 years old.