'That's something you never expect to hear'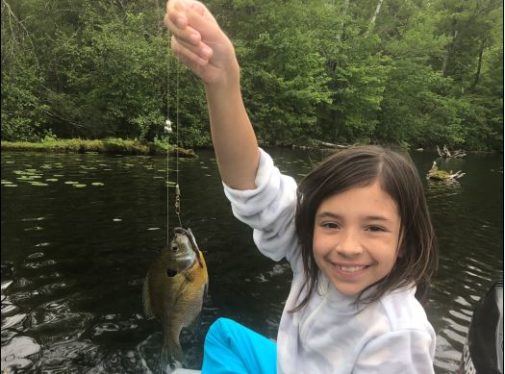 The Kneip family road trip to Virginia began like any other: Make sure everything was packed, kids were comfortable in their seats and focus on the road ahead.
When Jolie, who had just turned 6, complained that her back hurt, her mom thought it was due to the 14-hour trip. During the family's stay in Virginia, Jolie began acting less and less like her usually vibrant self. Her mother, Brandy, noticed she wasn't playing as much as she usually would. Jolie complained of back pain on the trip home as well, but her symptoms weren't cause for alarm.
A week later, Jolie's stomach started to look distended, but Brandy assumed Jolie was constipated. When Jolie admitted it hurt when she went pee, Brandy knew it was time to make a sick visit. Getting into the car to head to the sick visit at Advocate Children's Hospital in Park Ridge, Ill., Jolie started screaming that her stomach hurt really bad. During the visit, the nurse asked Jolie to lie down on the table. Jolie's stomach bulged with a noticeable mass roughly the size of a fist.
"In my mind, I though her appendix burst," says Brandy. 'The nurses were so patient and kind and helped us get over to the emergency department for tests."
Tests confirmed a mass in Jolie's pelvic area, and she was admitted to the hospital that night.
Dr. William Goodell, a pediatric hematologist/oncologist at Advocate Children's Hospital, met with Jolie's parents to let them know that Jolie would undergo surgery to determine what the mass was. Surgeons told Jolie's parents that if she came out of surgery with a port, the mass was cancer. If she had no port, the mass was indicative of something else.
"We were all alone in the surgical waiting area on Saturday night, and we got a phone call. All my husband said when he hung up was, 'She's getting a port.' We knew it was cancer," says Brandy. "That's something you never expect to hear."
Jolie was diagnosed with Stage 3 rhabdomyosarcoma, a rare cancer that is found in soft tissues, connective tissues or bones. Jolie underwent 16 months of chemotherapy and radiation treatment under the care of Dr. Goodell at Advocate Children's Hospital.
Now, three-and-a-half years later, Jolie is cancer-free. Right after her treatment ended, she returned to the hospital for one-month check-ups, then three-month check-ups. Jolie now needs scans only twice a year. Rhabdomyosarcoma can return, and Brandy says Jolie is never completely out of the woods, but she hopes that Jolie's scans will continue to remain clear.
During treatment, Jolie would spend five- to 14-day-stretches in the hospital. Brandy says that those who cared for Jolie for those many months have become like family. She can't thank the nurses and other team members enough who were there for her to say just the right things at just the right time.
Brandy says what they have been through has made them stronger as a family, helped them live in the moment and be grateful for all they have. They've helped Jolie, soon to be 11, create a bucket list of things she'd like to do. They've already checked exciting things like swimming with dolphins and taking a helicopter ride off her list. Jolie also lists normal activities like going to the public library or visiting a water park, because kids with cancer have to avoid germs and avoid crowded place during treatment.
The Kneip family is committed to supporting others touched by cancer. They hosted a blood drive to pay it forward and replace the 17 transfusions Jolie received during her treatment. They also attend events hosted by the Midwest Children's Brain Tumor Center at Advocate Children's Hospital throughout the year. For the last five years, they've attended the annual Peds in the Weeds picnic, which brings the Advocate Children's Hospital hematology/oncology providers and team members together with families of children fighting cancer, cancer survivors and those who have lost a loved one to support and encourage one another.
Lifelong friendships and support systems have been forged over the 38 years Peds in the Weeds has been bringing these families together. The Kneip family is one that has reaped the benefits.
"It's great because you get to see these people again who have helped you through the hardest part of your life," Brandy says. "It's an opportunity to connect people who have gone through the same thing as you. It serves as a reminder to never forget what we've been through and remember what we've accomplished."
Related Posts
Comments
About the Author
Colette A. Harris, health enews contributor, is the public affairs and marketing coordinator at Advocate Lutheran General Hospital in Park Ridge, Il. She holds a Master of Science degree in journalism from Northwestern's Medill School of Journalism and has nearly a decade of experience writing about health and wellness, which are her passions. When she's not writing, you can find her practicing yoga, cooking, reading, or traveling.