Should you be eating overnight oats?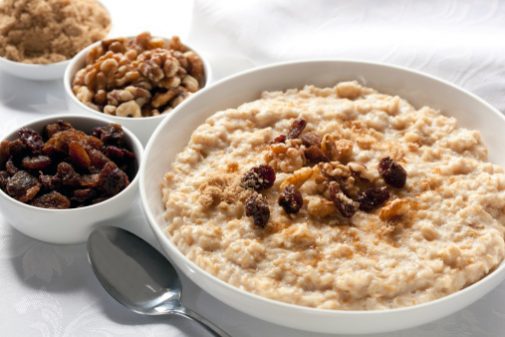 Do you often find yourself missing the first meal of the day because you simply don't have time? Eating leftover pizza or a slice of cake because you didn't want to cook in the morning?
A solution to saving time while eating a healthy breakfast could be overnight oats.
These easy-to-make oats are fun and delicious. Like regular oats, they are mixed with milk and can have the addition of fruit, yogurt or other tasty ingredients. Before going to bed, simply mix the oats, milk and other desired ingredients in a Mason jar and refrigerate until morning. The oats will 'cook' while steeping in the milk, leaving you with a ready-to-go breakfast the next morning.
While overnight oats have become a wildly popular trend, there is controversy over their healthiness. Some argue that overnight oats can be helpful to managing weight as well as play an important role in boosting metabolism and brain function. Others debate that overnight oats are not optimal for breakfast due to the heavy-dose of carbohydrates.
Caitlin Beranek, a registered dietician at Advocate Condell Medical Center in Libertyville, Ill., offers her professional opinion on overnight oats, claiming the concept to be a good one. In a brief Q&A, Caitlin answers some commonly asked questions.
Is there a significant change in nutritional quality with overnight oats compared to regular oats? Overnight oats are made with rolled oats as opposed to steel cut, since steel cut oats are too thick to become soft enough with an overnight soak. Overnight oats tend to be fewer in nutrients compared to the superior steel cut oats. With that said, there is no significant change to the nutritional quality.
How often is it safe to eat overnight oats?  Overnight oats have been found to be perfectly safe, even enough to eat every morning if desired. Just as with any food, some may feel that uncooked oats give them digestive issues. Overnight oats are not unsafe unless someone has certain medical conditions that affect their ability to digest.
Caitlin offers the following recommendations to keep in mind when creating a well-balanced meal with overnight oats, maintaining a healthy mix of carbohydrates, protein and fat:
Try soaking the overnight oats in yogurt, adding a tablespoon of nut butter or mixing in almonds or walnuts.
Add dried fruit such as raisins and cranberries, but be aware that one serving of these equates to about a tablespoon.
For a bit of sweetness, try adding a teaspoon of brown sugar or mini chocolate chips.
Overnight oats are a great way to ensure  you have a breakfast ready each day, no matter how little time you have in the morning. Take a few minutes the night before to get yourself ready to start your morning with a well-prepared and balanced beginning to the day.
Are you trying to watch your weight? Take a free, quick online assessment to learn more about your healthy weight by clicking here.
Related Posts
Comments
About the Author
health enews staff is a group of experienced writers from our Advocate Aurora Health sites, which also includes freelance or intern writers.