Do you need to be worried about second-hand vaping?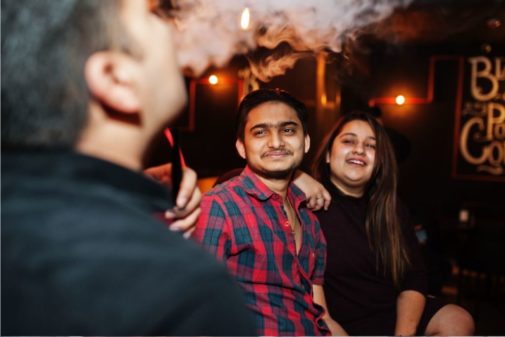 Choosing vaping over the ashes, smoke and odor of traditional cigarettes may seem to be a step in a healthier direction for you and your loved ones who stand to be affected by second-hand cigarette smoke.
But when it comes to vaping, appearances may be deceiving.
"While we are still in the early stages of building a body of research that conclusively determines the impact second-hand vapors from e-cigarettes have on pulmonary health, science does tell us that environmental pollutants we encounter every day can increase our risk of lung disease," says Dr. Francis Podbielski, a thoracic surgeon at Advocate Christ Medical Center in Oak Lawn, Ill. and and Medical Director of Thoracic Surgery at Advocate South Suburban Hospital  in Hazel Crest, Ill.
E-cigarettes, even those that claim not to contain nicotine, emit aerosol byproducts that can contain cancer-causing chemicals and lung irritants. These superfine particles and heavy metals could lead to irreversible lung damage and other respiratory problems. More than 215 possible cases of respiratory illness across 25 states are under investigation. In late August 2019, an Illinois patient who had recently vaped died in what regulators consider the first vaping-related death in the U.S.
Direct exposure from using these products may prove to be a common link in these cases. However, Dr. Podbielski warns that passive exposure to these substances can be dangerous, as well.
For example, Dr. Podbielski and his team recently treated a patient who was a lifelong non-smoker. But after a day's exposure to vaping fumes in a confined area, she developed a severe pneumonia that required a lung biopsy and a brief time on a breathing machine. Fortunately the patient has recovered, but will most likely develop some type of irreversible lung scarring.
To minimize possible harm caused by second-hand vapors, a growing number of states and municipalities have passed legislation that restricts e-cigarette use in traditionally smoke-free venues such as restaurants, bars and non-hospitality workplaces. Meanwhile, Dr. Podbielski recommends non-smokers avoid byproducts of nicotine products in any form.
"It would seem prudent that as a non-smoker, you should prohibit friends and family from smoking in your car or inside your home because you want to avoid the effects of second-hand smoke; it may also be a good idea to extend that smoking ban to e-cigarettes and other vaping products as well," he says.
Want to learn more about your risk for lung cancer? Take a free, online risk assessment by clicking here.
Related Posts
Comments
About the Author
Cassie Richardson, health enews contributor, is regional coordinator on Advocate Aurora Health's Public Affairs team. She has more than 10 years of experience in health care communications, marketing, media and public relations. Cassie is a fan of musical theater and movies. When she's not spreading the word about health and wellness advancements, she enjoys writing fiction.