Recipe: Cucumber Chori Chaat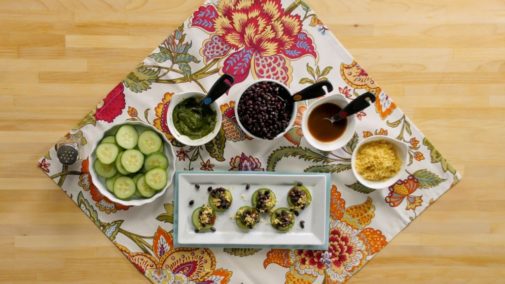 "Chaat" or crunchy savory snack is the go-to food when it comes to chai time snacks, coffee breaks or as appetizers. It is characterized mainly by 3 things – first, the ingredients that add the crunch, secondly the chutney that adds the savory flavor and thirdly the ease with which it's made and served. It usually only requires assembly at the time of eating.
Here is a healthy Chaat recipe that hits all the above 3 criteria for a good Chaat dish. Let's see what's new and healthy. Crunch factor – The fried puris that provide the crunch are substituted with firm cucumber slices and the crispy sev that is sprinkled is reduced to just 1 tbsp per person. The savory factor – The Chutneys [sauces] are homemade so the salt, sugar and preservatives are managed. The easiness factor – Yes cutting up cucumber slices, boiling red beans and pouring chutney can be done by any one of us.
This recipe of Cucumber Chori Chaat is a great new addition to the family dinner table. Six slices of Cucumber Chori Chaat has 1 oz. of protein and1/2 cup of vegetables.  It's also the equivalent of a serving of protein and vegetables on the USDA's MyPlate, which provides guidance on the appropriate amounts of fruits, vegetables, grains, dairy and protein each person should consume to live a healthier, more balanced life.
Cucumber Chori Chaat
Serving size: 6 slices Cucumber Chori Chaat
Total Servings: 4
Cooking Time: 15 Minutes
Ingredients:
1 seedless cucumber – 6" long, 1.5-2" diameter, cut into thick slices
¾ cup cooked red chori beans [red cowpeas or adzuki beans can also be used]
3 Tbsp cilantro chili chutney [homemade preferred]
2 Tbsp tamarind chutney [homemade preferred]
2 Tbsp Nylon Sev
½ tsp chaat masala
Cooking method:
Arrange the cucumber slices on a tray and spread ½ tsp cilantro chili chutney on each cucumber slice.
Evenly distribute the red chori beans on the cucumber slices. Top each slice with ¼ tsp tamarind chutney.
Sprinkle the Nylon Sev over
the cucumber slices and sprinkle chaat masala. Serve along with Chai as an evening snack or as an appetizer.
Nutritional Information
Serving size: 6 slices Cucumber Chori Chaat

Each serving provides:

Calories
130 Kcal
Protein
5g
Total Carb
17g
Total Fat
2g
Sodium
130mg
Other Resources:
MyPlate icons – https://www.choosemyplate.gov/myplate-graphic-resources
Nutrient info – USDA database – https://ndb.nal.usda.gov/ndb/search/list
Nutrient info – www.calorieking.com
Nutrient info – Patel Brothers – http://store.patelbros.com/
This South Asian series is brought to you by Advocate Health Care, created in collaboration with Boehringer Ingelheim. 
Copyright © 2019 Advocate Aurora Health, Inc. and Boehringer Ingelheim Pharmaceuticals, Inc. All rights reserved. 
Related Posts
Comments
About the Author
Sri Sakthi Ramanathan, RD, LDN earned her bachelor's degree from UIC in 2008 and completed her 1 year nutrition internship with the Advocate group of hospitals. She has been a dietitian for 10 years and enjoys making meal planning easier and applicable for her clients. She currently works part time at Advocate Heart institute for their South Asian Cardiovascular Center as their community dietitian. She is the nutrition expert when it comes to South Asian community health.