Recipe: Cracked Wheat Vegetable Uppma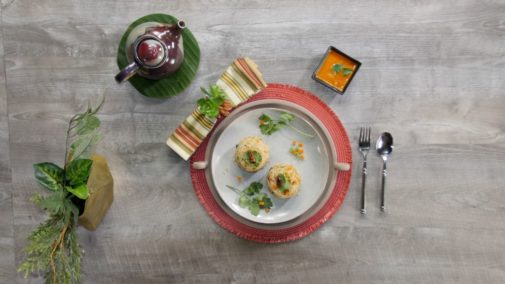 This recipe for Cracked Wheat Vegetable Uppma is a great new addition to your healthy dinner. Uppma is a popular breakfast or dinner item for South Asians. It is usually made with Rava [refined wheat]. This recipe replaces the refined wheat with whole wheat that has been broken coarsely for a faster cooking time. It is generally cooked by itself without vegetables making it high in carbohydrates. This healthy recipe calls for three cups of vegetables for every cup of wheat making it a lower carb option for uppma lovers. This will come in handy for diabetics that are counting carbs and for those trying to lose weight.
A cup of Cracked Wheat Vegetable Uppma has 1 oz. of whole grains and ½ cup of vegetable.  It's also the equivalent of a serving of vegetables and grains on the USDA's MyPlate, which provides guidance on the appropriate amounts of fruits, vegetables, grains, dairy and protein each person should consume to live a healthier, more balanced life.
Masala Omelet
Serving size: 1 Cup
Total Servings: 5
Cooking Time: 30 Minutes
Ingredients:
1 cup cracked wheat [dry roasted]
1 cup carrot, diced
1 cup green beans, diced
½ cup celery
3 cups water
1 Tbsp olive oil
½ tsp mustard Seeds
½ tsp split Urad Dal
3 dry red chilis
 10 curry leaves
 ¼ cup onion, diced
 1 squeeze Asafotida or hing
 ½ tsp salt
Cooking method:
Heat olive oil in a nonstick sauce pan or nonstick wok on medium heat. Add the mustard seeds. When they begin to pop, add split Urad Dal.
When the split Urad Dal starts turning brown, add ingredients # 9 – #12.
When onions are brown, add carrots, green beans, celery and 1/2 cup water. Cook on medium heat for 5 minutes, until all of the water is absorbed.
Add 2 more cups of water and bring the water to a boil. Add cracked wheat and stir well. Cover with a tight lid and cook for 15 mins on medium heat.
Serve with tomato chutney or sambar for a light meal.
Nutritional Information
Serving size: 1 Cup Cracked Wheat Vegetable Uppma

Each serving provides:

Calories
160 Kcal
Protein
5g
Total Carb
29g
Total Fat
3g
Sodium
270mg
Other Resources:
MyPlate icons – https://www.choosemyplate.gov/myplate-graphic-resources
Nutrient info – USDA database – https://ndb.nal.usda.gov/ndb/search/list
Nutrient info – www.calorieking.com
Nutrient info – Patel Brothers – http://store.patelbros.com/
This South Asian series is brought to you by Advocate Health Care, created in collaboration with Boehringer Ingelheim. 
Copyright © 2019 Advocate Aurora Health, Inc. and Boehringer Ingelheim Pharmaceuticals, Inc. All rights reserved. 
Related Posts
Comments
About the Author
Sri Sakthi Ramanathan, RD, LDN earned her bachelor's degree from UIC in 2008 and completed her 1 year nutrition internship with the Advocate group of hospitals. She has been a dietitian for 10 years and enjoys making meal planning easier and applicable for her clients. She currently works part time at Advocate Heart institute for their South Asian Cardiovascular Center as their community dietitian. She is the nutrition expert when it comes to South Asian community health.