Recipe: Sprouted Moong Bhel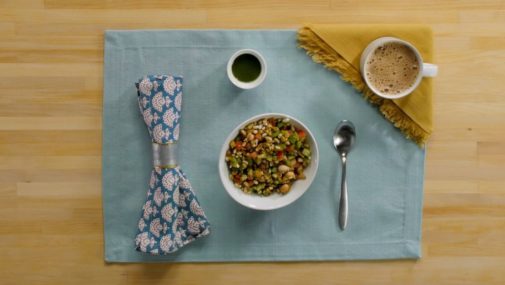 When a South Asian is looking for street food or for a crunchy evening snack, one of the first things that comes to their mind is "Bhel Puri." A "bhel" is a hybrid of a salad and a trail mix with sweet/savory chutney that is topped with a crushed fried dough called sev. Here we will see a healthy low carb version of the most loved bhel. This recipe drops the fried puri, potato, gathya, fried nuts and the sweet chutney. Instead these ingredients are substituted with Sprouted moong, diced vegetables, small amount of puffed rice and only 1 tbsp of homemade cilantro chutney per serving. Also it uses just 1/8 amount of the actual amount of sev as a final topping. With all these modifications you will get a healthy bhel with 80% less carbs than the traditional preparations. So now you don't have to hesitate for a second helping.
This recipe of Sprouted Moong Bhel has 1 serving of Sprouted Moong Bhel, 1 oz. of protein and ¾ cup of vegetables. It's also the equivalent of a serving of protein and vegetables on the USDA's MyPlate, which provides guidance on the appropriate amounts of fruits, vegetables, grains, dairy and protein each person should consume to live a healthier, more balanced life.
Sprouted Moong Bhel
Serving size: 1 cup Sprouted Moong Bhel
Total Servings: 4
Cooking Time: 20 Minutes
Ingredients:
1 cup sprouted whole Moong
½ cup puffed rice/Mumra [dry roasted, not fried]
½ cup carrot shredded
½ cup green bell pepper, diced
½ cup cucumber, diced
½ cup tomato, diced
¼ cup onion, diced
2 small green Thai chilies, diced
¼ cup dry roasted, unsalted peanuts
1 Tbsp lemon juice
1/8 tsp salt
3 Tbsp cilantro chutney [homemade preferred]
Cooking method:
Wash and cook whole Moong in microwave or boil for 2 minutes.
Mix all ingredients together in a large bowl. Save some cilantro chutney for garnishing at the end.
Nutritional Information
Serving size: 1 cup Sprouted Moong Bhel

Each serving provides:

Calories
125 Kcal
Protein
6g
Total Carb
15g
Total Fat
5g
Sodium
111mg
Other Resources:
MyPlate icons – https://www.choosemyplate.gov/myplate-graphic-resources
Nutrient info – USDA database – https://ndb.nal.usda.gov/ndb/search/list
Nutrient info – www.calorieking.com
Nutrient info – Patel Brothers – http://store.patelbros.com/
This South Asian series is brought to you by Advocate Health Care, created in collaboration with Boehringer Ingelheim. 
Copyright © 2019 Advocate Aurora Health, Inc. and Boehringer Ingelheim Pharmaceuticals, Inc. All rights reserved. 
Related Posts
Comments
About the Author
Sri Sakthi Ramanathan, RD, LDN earned her bachelor's degree from UIC in 2008 and completed her 1 year nutrition internship with the Advocate group of hospitals. She has been a dietitian for 10 years and enjoys making meal planning easier and applicable for her clients. She currently works part time at Advocate Heart institute for their South Asian Cardiovascular Center as their community dietitian. She is the nutrition expert when it comes to South Asian community health.