Here's an easy way to get more done at the gym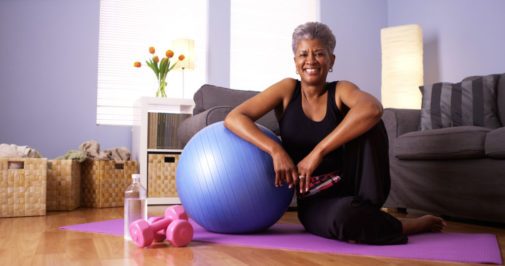 You're at the gym and just finished a set. Before you start your next set, do you:
A.) Walk on a treadmill?
B.) Sit on a bench?
C.) Lie on the floor?
If you're looking to get the most out of your workout, your answer should be B or C.
That's what researchers in Utah and Rhode Island found when they undertook a study to determine differences in work rate associated with three rest strategies used between training sets. The study was published in the Journal of Strength and Conditioning Research.
Five men and 10 women were recruited for the study, and they were asked to repeat the same strenuous training session three times. Between sets in one session, they walked on treadmills. Between sets in another session, they sat on a flat bench. Between sets in a third session, they lay supine on the floor.
The findings suggest that the passive strategies – sitting and lying – result in superior heart rate, respiration rate and oxygen consumption recovery.
The researchers concluded that work rate and physiological recovery were enhanced when the participants lay down or sat down between sets compared with when they walked between sets.
Joe Ozanic, a personal trainer at Advocate Good Shepherd Hospital Health and Fitness Center in Barrington, Ill., says resting is important when you're working out.
"Resting between sets is beneficial for strength training because you are trying to replenish your stores of ATP (energy source adenosine triphosphate)," Ozanic says, adding that the length of time you should rest depends on the amount of weight you are lifting and how long it takes to complete your set.
Ozanic offers these resting guidelines from the National Strength Conditioning Association's Essentials of Strength Training and Conditioning:
When you are lifting weights to build strength, you should lift at least 85 percent of your one-rep maximum for one to five reps and rest for two to five minutes.
When you are lifting weights to build muscle, you should lift 70 percent to 85 percent of your one-rep maximum for 6 to 12 reps and rest for 30 to 90 seconds.
When you are lifting weights to build muscular endurance, you should lift less than 70 percent of your one-rep maximum for 12 or more reps and rest for less than 30 seconds.
Related Posts
Comments
About the Author
health enews staff is a group of experienced writers from our Advocate Health Care and Aurora Health Care sites, which also includes freelance or intern writers.