Feeling sick? Consider skipping this part of your routine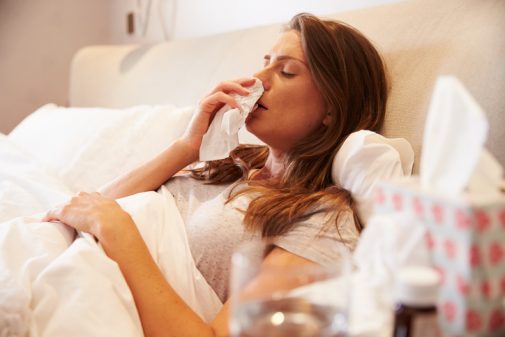 You've started a strong workout routine, and you're beginning to see great results.
Your abs are tighter, and your upper arms are less jiggly. You're a leaner, meaner machine all around. Then you start feeling sick. Do you stay home from the gym and risk losing that momentum?
Joe Ozanic, a personal trainer at Advocate Good Shepherd Hospital Health and Fitness Center in Barrington, Ill., says exercise can be okay when you're sick, but moderation is key, and it all depends on your symptoms.
"If you're trying to follow a strict workout plan and you really don't want to miss a day, it's perfectly okay to exercise, just make it low intensity," Ozanic says. "You don't want to work out with the same vigorous intensity you usually use. Scale it back."
Ozanic says it's important to listen to your body and know your limits. Let your symptoms guide you.
If you have a sore throat, runny nose, nasal congestion or a cough, you can consider a low-intensity workout. In fact, moving your body can be beneficial. Just be careful to avoid overdoing it.
Instead of 10 sets of lifts, consider five or three. Instead of 30 minutes of running, opt for 15 minutes of walking. Stay away from vigorous exercise over a long period of time.
"If you work out too hard, it's possible you could make yourself worse, so see how your body is feeling," Ozanic says.
If you're experiencing significant muscle or joint pain, headache, fever, diarrhea or vomiting, you should skip the gym and give your body a chance to heal without placing more stress on it. Plus, if you're dehydrated from diarrhea or vomiting, sweating can exacerbate the problem. And getting back into the gym too soon before your illness truly has run its course can set you back in the recuperation process.
Don't feel guilty about choosing sleep over the gym. Sometimes a little extra sleep will help you get healthy and back to your normal workout routine sooner.
If you have a cough or runny nose and you decide to head to the gym, be considerate of those around you and those using equipment after you. If you're not the one who's sick, but you notice others who are, take precautions by using hand sanitizer frequently or wiping down equipment before you use it.
One more tip from Ozanic: Don't believe the saying about sweating out a cold.
"The myth that you can sweat out a cold is just that – a myth," he says.
Related Posts
Comments
About the Author
health enews staff is a group of experienced writers from our Advocate Health Care and Aurora Health Care sites, which also includes freelance or intern writers.