Does it cause cancer? Maybe not.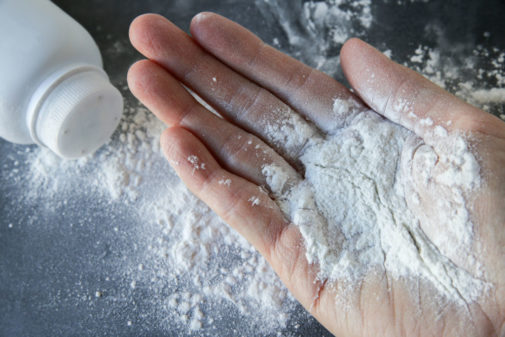 Court cases have a put once-popular product in the legal spotlight: talcum powder. In recent years, research linked the hygiene product to ovarian cancer in women who used a talc-based powder. Now, new research suggests there may not be a significant link between talc and cancer.
The study, published in the Journal of the American Medical Association, sought to answer one question: "Is use of powder in the genital area associated with the risk of developing ovarian cancer?"
Researchers sampled more than 25,000 women who say they used the powder in their genital area. They followed up with those women 11 years later and found just over 2,000 of them developed ovarian cancer. Researchers said those numbers show no "statistically significant association between use of powder in the genital area and incident ovarian cancer."
The concern over ovarian cancer and talc-based powder stems from past research.
"There were studies in the past that linked talc to asbestos with a possible relationship to cancer," explains Dr. Elizabeth Dickson Michelson, Gynecologic Oncologist at Aurora West Allis Medical Center in West Allis, WI. "However, these studies are hard to show a true correlation because of certain biases like improper self-reporting."
Dr. Dickson Michelson says talc is a cousin to asbestos, which is why there's a concern.
"We know that asbestos causes a certain cancer called Mesothelioma," she says.
The recent study is one of the largest on the topic. However, Dr. Dickson Michelson says more research is still needed and a person's genetic make-up plays a huge role in their cancer risk.
"​It is very hard to correlate certain environmental factors to cancer risk, as each person's cancer is different because different genes can be mutated," she says. "Proving that taking something like talc and having it cause YOUR cells to mutate is very hard."
Dr. Dickson Michelson says the best way to prevent ovarian cancer is regular physical exams and calling your doctor if you notice changes in your body you cannot correlate to eating habits.
"​We like to use the acronym BEAT – bloating, eating changes, abdominal pain, trouble with bladder/bowel for ovarian cancer signs," she says. "For younger women, contraceptive pills can help to prevent ovarian cancer by decreasing the number of cysts that an ovary can produce."
If you still want to use a powder in your hygiene routine, Dr. Dickson Michelson recommends talking to your gynecologist and steering clear of talc-based products.
"I would still stay away from talc, just in case there is a small correlation that the study did not show," she advises.
Read more:
Related Posts
Comments
About the Author
LeeAnn Betz, health enews contributor, is a media relations manager for Advocate Aurora Health. She is a former TV news executive producer with a background in investigations, consumer news and in-depth storytelling. Outside of work, she enjoys CrossFit, baking, finding a good cup of coffee and being a mom.