Health care heroes: 'These guys are the MacGyvers of technology'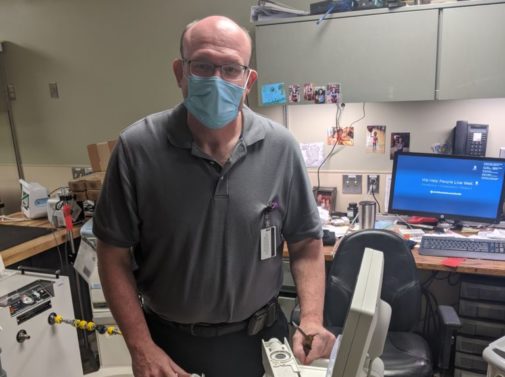 You've heard on the news all about ventilators, the sophisticated breathing machines that can be key to saving lives during the global COVID-19 pandemic.
But what about when they break?
That's where a hospital's biomed technicians and imaging engineers come in. They're the ones who make sure all the critical machines in a hospital room are available and functional. Without those machines and the people who keep them running, doctors and nurses wouldn't have the information they need to treat patients as well as they can.
At Advocate Christ Medical Center in Oak Lawn, Freddie Leon and Patrick Donohue are two of those biomedical techs. Early on in the pandemic, Leon and Donohue made an important decision that would pay dividends later as COVID-19 infections hit Chicago's southland especially hard. They planned ahead and ordered a bunch of extra ventilator parts.
After a ventilator runs for a certain number of hours, parts need to be replaced. It's critical that these machines function flawlessly, so this maintenance can't be ignored. That means they'd need a lot of parts. And they'd need to put in a lot of hours maintaining the hospital's existing ventilators and ensuring dormant ones weere ready for use. Lives depend on it.
"You're getting ready to leave work, and they bring you four more," Donohue said. "You would just stay. It's automatic. You're saving lives.
"The hospital needs them, and that's your job," he said. "You feel good when you eventually walk out the door."
Their job also required them to find new solutions as the hospital repurposed some of its beds, creating a new unit dedicated to taking care of COVID-19 patients. Having the beds in the right places is important, but without the correct monitors and technology installed, doctors and nurses can't perform at their peak.
"These guys were thinking on their feet," said Joe Carli, director of healthcare technology management at Christ. "They knew what nurses needed.  "These guys are the MacGyvers of technology. When people need a technology solution, they come to clinical engineering."
And sometimes, clinical engineering needs to go to them. If machines in the room of a patient with COVID-19 need repairing, techs put on full protective gear and go in. It's rare for them, but it's been more common in the last two months. It's what the job requires.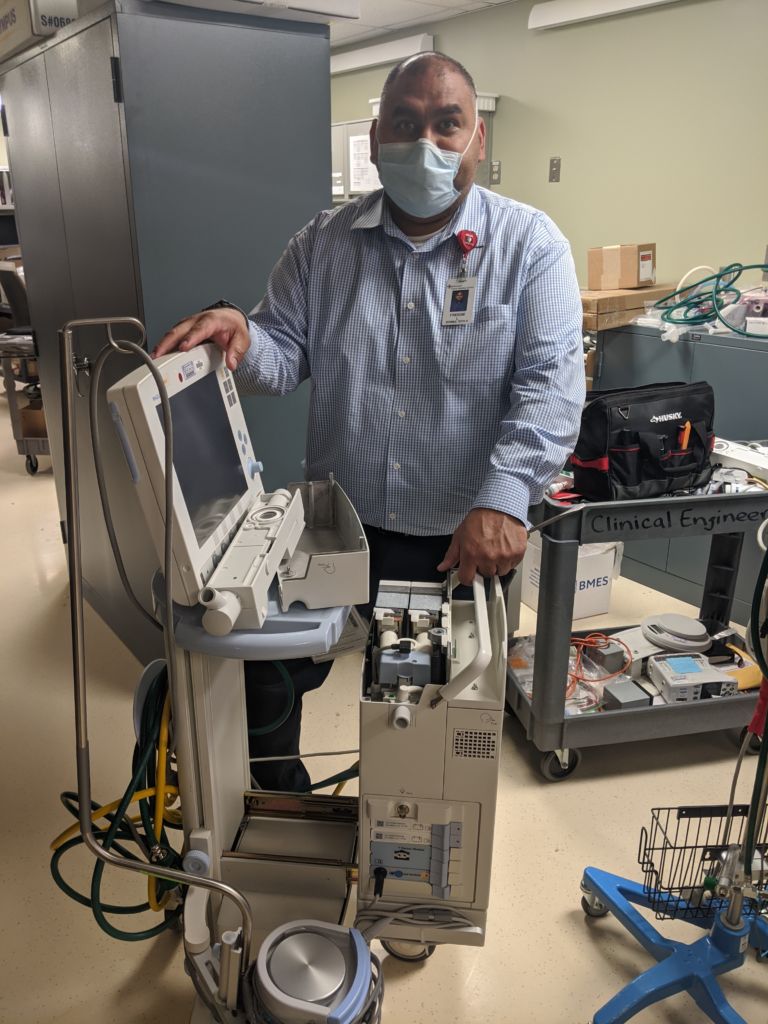 "We've got to be used to that," Leon said. "If a thing breaks, we have to go into the room. We can't fix it later."
They've been pulling long hours at the hospital, as a couple of their coworkers have been called up to active military duty. But they even sometimes log into the hospital networks and monitoring equipment from home, Leon said.
And techs from across Advocate Aurora's network have pulled together. When it became clear that nurses needed more machines to monitor oxygen levels in patients' blood, the Christ team sought supply from different hospitals, care sites and its vendor. They secured nearly 50 more almost overnight, a process that usually would take far longer.
"It was very high pressure," Carli said. "Nursing needed this. They needed it yesterday."
Advocate Christ clinical engineering techs work as a team. They are: Freddie Leon, Patrick Donohue, Mohammad Hammoudeh, Colleen Kaufmann, Ruben Cervantes, Leo Davalos, Damian Lesnicki, Tyler Morgan, Roberto Mejia, Jose Hernandez and Becker Gholeh.
Related Posts
Comments
About the Author
Mike Riopell, health enews contributor, is a media relations coordinator with Advocate Health Care and Aurora Health Care. He previously worked as a reporter and editor covering politics and government for the Chicago Tribune, Daily Herald and Bloomington Pantagraph, among others. He enjoys bicycles, home repair, flannel shirts and being outside.