What I learned treating patients during both HIV/AIDS and COVID crises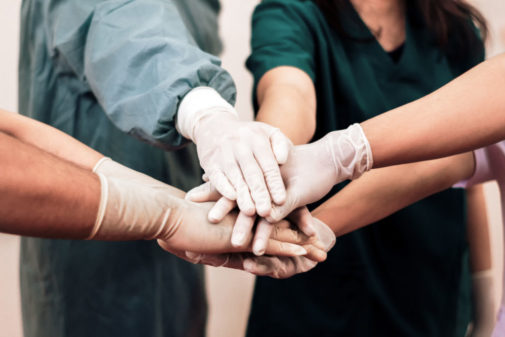 When I first joined Advocate Illinois Masonic Medical Center's medical staff as an infectious diseases expert, I was six months pregnant with my third child. There is always some sense of anxiety with change, but this was different. I joined the medical center, located right next to Chicago's Boystown neighborhood, in the middle of the HIV/AIDS epidemic, a global crisis that would go on to claim the lives of 14 million people during the 1980s and 1990s.
While it was a heartbreaking and difficult time in human history, I feel so proud to be part of Advocate Illinois Masonic's legacy dating back to this time. The hospital was home to Unit 371, Chicago's first inpatient unit treating and supporting patients with HIV and AIDS. I oversaw Unit 571, the clinic dedicated solely to outpatient treatment of HIV/AIDS. At a time when these patients were being evicted from their homes, turned out on the streets and terminated from their jobs, we welcomed them. No questions asked. While HIV and AIDS continues to tear through some global communities, here at Masonic, we were fortunate to eventually close Unit 371 and Unit 571.
Now, as we navigate another health crisis in the COVID-19 pandemic, I can't help but reflect on the many ways these two crises are the same and the stories of bravery and compassion that always carries us through such scary and trying times. It does feel like déjà vu in many ways.
For one, there is certainly a sense that we suddenly have upon us something that's never been described before. There aren't textbooks or papers to look to in order to inform our way forward. In the early days of the HIV/AIDS epidemic, we weren't treating to cure these diseases – we were doing our best to alleviate the symptoms. Being on the frontlines of the COVID pandemic, I'm experiencing all over again the sense of needing to adapt to a quickly evolving situation with new information every day.
I'm also seeing a stigma, so often a reaction to fear and lack of understanding, tied to COVID. We hear stories of others being quick to judge those who have been diagnosed with COVID or perhaps judge those who don't understand the safety precautions we all must take in order to stem the spread of this virus. Perhaps we ourselves are guilty of casting judgment. HIV/AIDS, of course, is still stigmatized and sorely misunderstood to this day.
Just like the early days of the HIV/AIDS epidemic, I see the global community try to make the best of a new, rapidly evolving and very scary situation during our current pandemic. But perhaps the most significant similarity I see between the two crises are the stories of bravery and compassion on the frontlines of health care.
Every day, I see many colleagues stepping forward. Even if they were a little afraid or worried, they still raise their hand and, in some cases, take on roles outside their normal jobs. Like me on my first day at Masonic as an expectant mom on the frontlines of the HIV/AIDS epidemic, health care workers drum up the courage to report to work because they are there to save lives. There is a shared understanding, as there was back then, that we are all tremendously committed to these people with such dire needs. Whether a patient was suffering from debilitating GI issues from HIV/AIDS or whether a patient was going on week three of intubation due to respiratory distress from COVID, we will always show up for our patients.
There is a story from the days of Unit 371 that is shared from time to time: An attending on the unit took the time to visit and sit with a patient who was declining rapidly. As the attending took and held the patient's hand, the patient broke down in tears. Such a simple gesture led to this emotional and tender moment. The attending would come to learn that that was the first time in recent memory the patient had been physically touched by anyone. The staff on Unit 371 didn't just attend to the clinical needs of the patients but to their emotional needs as well, whether through art therapy or simple human conversation.
And so it is with our staff on the COVID units. We treat their symptoms, but we also help them stay connected to their loved ones during a time when we are forced to be apart. We make sure they don't feel alone and celebrate them when they're ready go home.
The HIV/AIDS epidemic left an indelible mark on my life, not just as a physician but as a citizen of the world. And while we are not out of the woods with COVID, we can all control one thing: We may not always have the capacity to cure and make people well, but we can help relieve suffering. We can make wellness checks on each other. We can bring art and music into each other lives. May we never forget the simple things we can do for one another – like taking someone's hand – to ease suffering.
Dr. Catherine Creticos is an infectious disease expert working with Advocate Illinois Masonic Medical Center.
Related Posts
Comments
About the Author
Dr. Catherine Creticos is an infectious disease expert working with Advocate Illinois Masonic Medical Center.