Health care heroes: Empowering families during the hardest chapters of our lives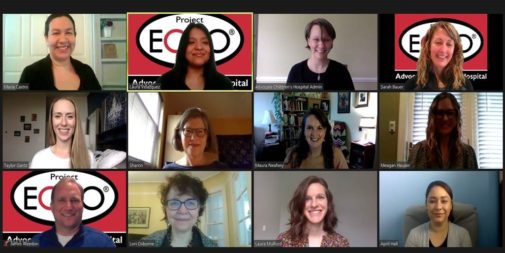 "Now more than ever, children with developmental differences and their families require advocacy and support."
Those are the words of Dr. Sarah Bauer, developmental and behavioral pediatrician and a leader in the ECHO Autism Program at Advocate Children's Hospital. Throughout her career, Dr. Bauer has been tirelessly advocating for children with special needs in our communities. In the early days of quarantine months ago, Dr. Bauer quickly identified the need for an adjustment in the way she and her team care for the children and families they serve.
She played a large role in transforming the ECHO Autism platform, which seeks to improve the health outcomes of children with autism spectrum disorders by connecting physicians with experts in the care of individuals with autism. The team sought to create a community space for providers to share resources, tips and techniques for caring for children with special needs during the pandemic.
Because of these efforts, the ECHO Autism in Primary Care virtual community grew rapidly over the course of the past few months as the team collaborated to find and create support for some of our most vulnerable children and families.
"Overnight, our team has transitioned to virtual health and supporting families whose children lost school and therapies," Dr. Bauer says. "This work continues, and I'm so honored to work with clinical and administrative professionals who put the needs of children and families first. It's because of their work ethic, innovation and collaboration that our team was able to remain clinically focused on keeping healthy children out of emergency rooms for behavioral crises so first responders are able to direct efforts to the COVID-19 pandemic. We're now able to work together to adapt and develop new programs that allow those we serve to receive the continued support of our clinicians."
"The most impactful thing I've seen during the pandemic is the clear call to service of health care workers. For our teams, while it was initially keeping our patients and families out of behavioral crises, it's now about supporting them and developing programs to serve them while keeping everyone safe."
Dr. Bauer brought together developmental and behavioral pediatrics experts to advocate on a state level for proper care and resources during the pandemic. The team has been collaborating with state chapters of national associations and writing articles to reach the public. Dr. Bauer has also explored advocating through op eds, narrative medicine and visual arts publications before and through the pandemic.
She stresses that children with developmental differences and their families are in great need. "They're without support and structure. At the same time, they're faced with their own trials, including the double pandemics our institution has discussed: COVID-19 and inequality. The lessons we continue to learn from these trials continue, and we must strive to empower families during the hardest chapters of our lives. Future work also includes developing ways to support our clinical teams who are dealing with the collective trauma of these pandemics."
"It's our calling to serve children and families in different ways, to empower them to persevere and to always remind them they are not alone. We are here to listen and help in ways that are safe for them."
Dr. Bauer also emphasizes the importance of continuing to bring children in for pediatric well visits and vaccines.
Related Posts
Comments
About the Author
Holly Brenza, health enews contributor, is the public affairs coordinator at Advocate Children's Hospital. She is a graduate of the University of Illinois at Chicago. In her free time, Holly enjoys reading, watching the White Sox and Blackhawks, playing with her dog, Bear and running her cats' Instagram account, @strangefurthings.