Health care hero: A Godsend in the NICU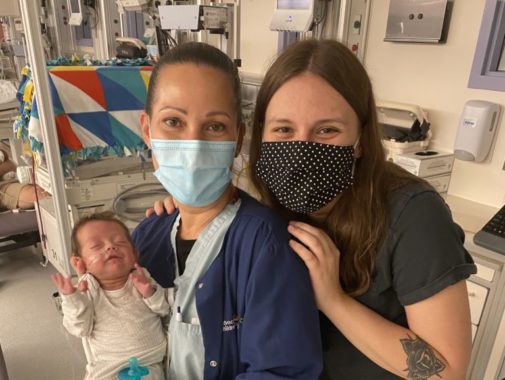 Having a baby in the Neonatal Intensive Care Unit (NICU) at any time is a stressful situation but even more so during a pandemic. But thanks to Park Ridge NICU nurse Lisa Serio, Eva Hermosillo's parents felt at ease throughout their daughter's 82 day stay.
Eva Hermosillo was born at just 26 weeks and was transferred immediately from Advocate Good Shepherd Hospital to Advocate Children's Hospital in Park Ridge for specialized care. Lisa was one of the first nurses to meet Eva's mom Aisha.
"Lisa was a godsend to us. She went above and beyond to make sure we understood everything going on in addition to understanding all the complex medical terms," Aisha said. "She's a part of our family now."
Eva spent a total of 82 days in the NICU – 70 days in the Small Baby Unit and 12 days on the regular unit. She was recently discharged and is at home with mom and dad doing well.
"The NICU truly became our home to us during Eva's stay. We are so grateful for the whole team, especially Lisa."
Lisa has been a nurse for 26 years – 18 of those years in the NICU at Advocate Children's Hospital in Park Ridge. Like she does with all her patients, Lisa worked hard with Eva to help see her to discharge.
"After 82 days, I put her graduation hat on, we sang our NICU Graduation Song, and I walked the family out of the NICU; out of the hospital where Eva saw the sun for the first time, and took a breath of fresh air for the first time," Lisa reflected on her time with Eva. "I watched her meet her family for the first time and as they drove off in the car decorated "NICU GRAD," I cried knowing she would sleep in her own bed, in her own home, with her parents at her side. No more two hour visits wearing masks, mom and dad could hold her all day and all night; she could finally see their faces and hear their voices without the muffle of the mask. I have the best job EVER."
Related Posts
Comments
About the Author
Julie Nakis, health enews contributor, is manager of public affairs at Advocate Children's Hospital. She earned her BA in communications from the University of Iowa – Go Hawkeyes! In her free time, she enjoys spending time with friends and family, exploring the city and cheering on the Chicago Cubs and Blackhawks.