Your 5-step guide to setting workout goals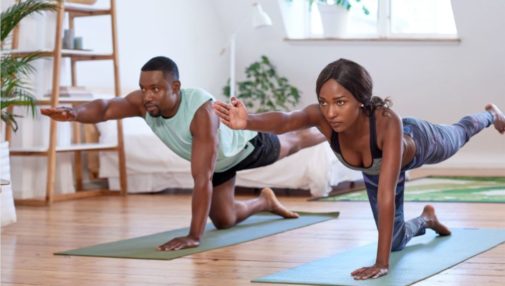 Physical activity is essential, and it's necessary to stay active throughout the year to maintain a healthy mind and body.
When the weather is nice, it can be fun to head outside to walk, ride a bike or even hike before or after work. But this summer weather doesn't last forever. In the cold months, many turn to their local gym to stay active, but the cost of a gym membership can be pricey.
Luckily, with a little discipline and planning, you can get a good workout in at home while saving a pretty penny.
"Setting aside designated space in your home for working out and having a good mindset is all you need to get active in your house," says Kristen Turner, a health navigator at Advocate Lutheran General Hospital in Park Ridge, Ill.
Working out at home has it benefits, but for it to be effective, you need the right equipment and a solid plan.
To get started, take inventory of your equipment. If you already have equipment, that's a plus. If you're planning to purchase some, Turner recommends investing in a bike or treadmill. Whether it be a walk, run or quick spin, this equipment brings versatility to your exercise routine.
If you don't want to purchase at-home equipment, exercises with body weight or minimal equipment like dumbbells, resistance bands or stability balls are beneficial, as well. Exercises that use your body weight to improve strength, aerobic fitness and flexibility can include push-ups, planks, jogging in place, jumping jacks, squats, lunges and yoga.
"All of these exercises incorporate major muscle groups and can be modified depending upon your needs. For example, the push-up can be done kneeling," says Turner.
No matter what exercises you choose to perform, the key is creating an in-home exercise plan you can maintain and setting goals you can achieve. To do so, Turner recommends setting "SMART" goals around your workout routine to ensure you're creating reasonable and attainable goals.
Follow these steps to set your first SMART goal:
Specific: Make your exercise goals specific so you can follow your plan. Example: This week, I'm going to exercise three days, including aerobic and resistance training. I'd like to use my body weight with limited equipment.
Measurable: Make an allotted time slot for each activity you plan to do or attach a number to your goal. How do you measure your progress? Example: I will exercise three days this week for 30 minutes each. I will walk for 15 minutes and then include resistance training, including squats, push-ups, planks and jogging in place for 30 seconds each three times. I will also include a five-minute stretching period including all major muscle groups.
Attainable: Instead of a daily goal that might be out of reach, focus on a weekly goal. That way, it allows you to be more flexible with your schedule.
Realistic/Relevant: Given your resources (time, ability, knowledge, etc), is the goal you have set reasonable? What is achievable for you in your life right now? Choose a goal that is motivating to you.
Time-bound: Set a deadline to your goal. Example: On Mondays, Wednesdays and Fridays, I will exercise for 30 minutes through the month of August.
Are you trying to find a doctor? Look here if you live in Illinois. Look here if you live in Wisconsin. 
Related Posts
Comments
About the Author
health enews staff is a group of experienced writers from our Advocate Health Care and Aurora Health Care sites, which also includes freelance or intern writers.