A faster, safer way to prep new patients for dialysis?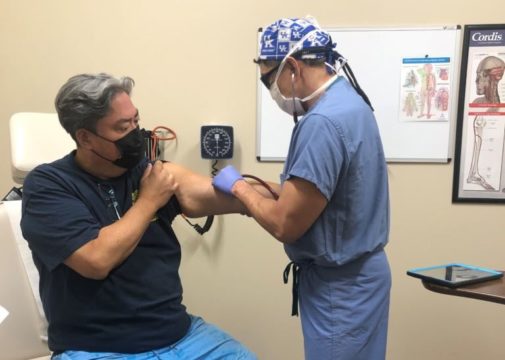 For more than 14 years, Homer Glen resident Brent Song, 55, traded the cold, snowy Chicago winters for the tropical breezes and warm waters of Hawaii and mission work with his late wife, Elizabeth, in Mexico.
Yet this year, a recent diagnoses of late-stage renal failure threatened his vacation plans to winter in a warmer climate.
"If my kidney function continues to deteriorate, it might not be a good idea for me to go to Mexico," he says explaining that he hopes to see better health soon, once he starts hemodialysis. "There are lots of dialysis centers all over Hawaii, so I'm hopeful I'll be able to get back to the life I had."
Song, who has lived with Type 2 diabetes for 20 years, admits he's had a longstanding struggle to adopt a heart-healthy lifestyle.  As a result, "I destroyed my own kidneys," he says, adding that in 2017, he had a cancerous tumor removed from his left renal gland.
"Mr. Song's need for dialysis was becoming very urgent," says Dr. Eugene Tanquilut, a vascular surgeon at Advocate South Suburban Hospital, in Hazel Crest, IL. "Mr. Song's kidneys are not doing an effective job of cleaning waste or removing enough fluid from his blood. These wastes and fluids are toxic. Eventually, without hemodialysis, these toxins will be fatal within a few weeks."
Dialysis is a treatment that mimics kidney functions for patients with serious renal disease. This treatment filters the patient's blood to remove impurities, then returns the cleaned blood back into their body. To make this procedure possible, patients like Song have a minor surgery to create a direct access point where the dialysis machine can connect to the patient's bloodstream.
Between the actual procedure and healing time, the process to prepare patients for dialysis usually takes 16 weeks – which would have threatened Song's dreams of spending this year's winter swimming in tropical waters. Fortunately for Song, he had good-sized veins and was in otherwise good health, making him a good candidate for a less invasive procedure, called Ellipsys, that recently became available at Advocate South Suburban.
The 30-minute procedure requires a tiny incision in the patient's arm. Then, the surgeon creates a natural port from healthy arm veins and arteries. This procedure eliminates the need to insert a plastic port under the patient's skin for access to the bloodstream like more traditional procedures. Patients undergoing the procedure have less risk of infection. They are also typically healed and ready for dialysis in 6-8 weeks – half the traditional healing time.
"Ellipsys is a strong solution for patients like Mr. Song, who also have the potential to live decades longer with dialysis to keep them healthy," Dr. Tanquilut says.
Song returned to his normal activities one day after his procedure, without the scars or lumps typical of other dialysis accesses. Today, he is looking forward to escaping the Midwest when the weather turns cold. "I am hoping for the best, that my health improves and that pretty soon I am going into the water," he says.
Related Posts
Comments
About the Author
Cassie Richardson, health enews contributor, is regional coordinator on the Public Affairs team for Advocate Health Care and Aurora Health Care. She has more than 10 years of experience in health care communications, marketing, media and public relations. Cassie is a fan of musical theater and movies. When she's not spreading the word about health and wellness advancements, she enjoys writing fiction.