Updated: Illinois implements new restrictions as number of cases keeps growing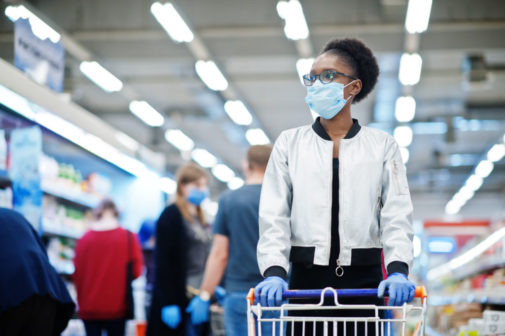 Last updated Nov. 18 at 8:00 a.m.
Even though COVID-19 has dominated much of the public conversation for months, it can still be difficult to sort out which resources have clear, trustworthy information you can turn to. This article will be updated regularly with the latest updates and a collection of reliable resources.
Illinois and Wisconsin continue to set unfortunate records for the number of cases in each state. On Tuesday, state officials cut capacity for retail shops and closed casinos, among other moves, as they continue to try to get their arms around the increased spread of the virus. On Tuesday, Illinois recorded 12,601 cases.
"This is not a stay-at-home order," Pritzker told reporters. "But the best way for us to avoid a stay-at-home order is to stay home."
Wisconsin had 7,090 more, plus a new daily record of 92 deaths. Last week, the escalating numbers drove Gov. Tony Evers to urge people to stay home.
"Wisconsin, this is serious. This crisis is urgent," Evers said in a prime-time address. "It's not safe to go out, it's not safe to have others over. It's just not safe. And it might not be safe for a while yet."
The news comes as a glimmer of light has appeared at the end of the pandemic tunnel.
Moderna on Monday announced its vaccine is 94.5% effective, according to early data. It's not yet been approved for use, and its trials continue. The news comes a week after preliminary data from Pfizer's COVID-19 vaccine trial showed 90% effectiveness in preventing infection among those who didn't previously have the disease.
"These could be real game changers," says Dr. Robert Citronberg, executive medical director of infectious disease and prevention at Advocate Aurora Health. "The flu vaccine is 40-60% effective, so these are shockingly good reports on the efficacy of the vaccines. If confirmed with additional data, it's an extraordinary scientific accomplishment. For the first time, we are seeing light at the end of the tunnel, and that's something we've all been waiting for."
But Dr. Citronberg is quick to caution that excitement should remain tempered.
"The vaccines themselves don't do anything. We have to get people immunized for them to be effective, and that's going to be a big challenge," he says. "Particularly in some populations that are very skeptical about receiving vaccines, it's going to take a big effort from the medical community to convince these people to get immunized."
Both states' public health agencies provide daily updates. Here is Wisconsin's. Here is Illinois'.
Those big numbers in both states are another reminder that everyone needs to take basic actions to try to slow the number of cases. Keeping your distance from others helps reduce the likelihood of the virus being passed. Wearing a mask helps, too.
Masks
Wearing a cloth mask over your nose and mouth can help people protect each other from the spread of COVID-19. And in some places, wearing a mask when you're indoors or can't keep distance from others is the law.
Watch below to learn what to look for in a cloth mask.
Symptoms
You need wear a mask and keep your distance from others even if you don't feel sick. You can pass the virus along even if you don't have symptoms. The Centers for Disease Control says that symptoms typically appear 2-14 days after exposure to the virus and include:
Fever or chills
Cough
Shortness of breath or difficulty breathing
Fatigue
Muscle or body aches
Headache
New loss of taste or smell
Sore throat
Congestion or runny nose
Nausea or vomiting
Diarrhea
If you feel like symptoms, you can start with Advocate Aurora Health's COVID-19 Symptom Checker here.
Get the care you need
Just because COVID-19 rightly has dominated everyone's attention for months doesn't mean your other health issues have gone away. News reports have suggested that people aren't seeking the basic health care they need – even for serious conditions such as heart attacks and strokes. Ignoring what seem like small health issues now can create big problems in the future. Your first step can be to call your doctor.
With that in mind, Advocate Aurora Health has made a Safe Care Promise to patients so that you can feel safe going to see the doctor. Here's what that means:
All patients, team members, providers and approved guests will be screened before entering a hospital, office or other care site.
Patients, team members, providers and approved guests are all provided with a mask before entering.
Social distancing will be observed. Our newly designed waiting areas and staggered appointment times reduce traffic, minimizing contact and creating safe spaces for all.
Virtual check-ins through the LiveWell mobile phone app provides for seamless, low-contact arrivals.
All public and treatment areas will undergo additional disinfectant and cleaning throughout the day and hand sanitizer will be readily available.
Kids
Parents face an endless series of difficult choices in normal times, and the pandemic has made just about all of them more difficult.
Knowing that, a group of top Advocate Aurora Health doctors gathered for a Facebook Live event on Wednesday, answering viewer questions about sports, screen time, school and more.
You can watch the full session below.
Related Posts
Comments
About the Author
Mike Riopell, health enews contributor, is a media relations coordinator with Advocate Aurora Health. He previously worked as a reporter and editor covering politics and government for the Chicago Tribune, Daily Herald and Bloomington Pantagraph, among others. He enjoys bicycles, home repair, flannel shirts and being outside.