Addressing health inequities in the Hispanic community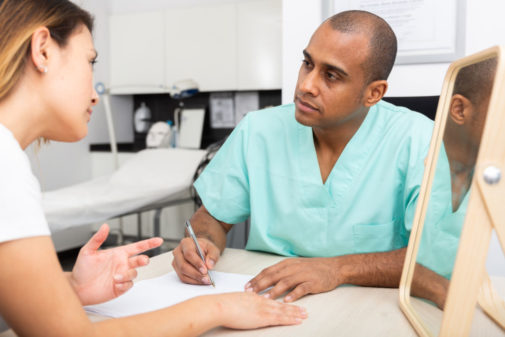 Hispanic Heritage Month is celebrated through Thursday and recognizes the anniversary of independence of many Latin American countries. It is a time of celebration for a community rich in culture and family traditions.
With this time of celebration also comes a time of reflection. COVID-19 has been especially challenging for Hispanic communities.
Dr. Julio Arnau-Gonzalez practices family medicine at Advocate Medical Group in Chicago. He believes the impact of COVID-19 has only deepened the health care inequities faced by Hispanic community.
"While Hispanic workers account for a large number of the essential workforce, they also experience lower rates of access to paid leave and are three times less likely to be insured according to the Medical Organization for Latino Advancement," Dr. Arnau-Gonzalez says. "With a lack of access to health care services, they also continue to suffer from racial disparities sustaining health care inequities even before the COVID-19 pandemic."
To help combat inequities in health care, Dr. Arnau-Gonzalez believes providers need to look at the total patient experience.
"Latinos are a diverse ethnic group that includes many different cultures, races and nationalities," says Dr. Arnau-Gonzalez. "Their needs include doctors who first clearly understand their language, but also have a sensitivity to cultural values to provide individualized treatment plans and preventative health care services."
Statistically, Latinos have disproportionately higher rates of obesity and diabetes. A doctor who understands the traditional foods and diet habits of the Hispanic community can provide personalized recommendations for their unique health conditions.
"It's important to create a welcoming health environment by also being culturally sensitive," Dr. Arnau-Gonzalez says. "The Latino cultural value of 'respeto' or respect can be seen in how older patients are addressed. Cultural sensitivity to this could be in how a doctor uses the term 'Don' or 'Doña' followed by their first name instead of 'Mr.' or 'Mrs.' followed by the last name."
For the Hispanic community, treating the whole patient with communication in their language throughout their care, a respect for their cultural values and individualized treatments is of great importance and can help bridge the disparities they face.
"My objective is to provide high quality health care to the Latino community," Dr. Arnau-Gonzalez says. "This is how we can ensure quality of life, economic opportunities, and social equity."
Related Posts
Comments
About the Author
Latoya Campbell, health enews contributor, is a Public Affairs Coordinator at Advocate Aurora Health. She has a BS degree in Communications/Broadcast Journalism from the University of Illinois Urbana-Champaign and previously worked in digital and graphic marketing for a public library. She enjoys spending time with her family and friends, fitness activities and a good spa day.