'Their love story brought us joy'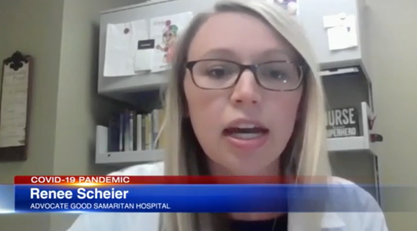 Earlier this month, Renee Scheier, interim manager of the Clinical Resource Unit at Advocate Good Samaritan Hospital, received a call from the emergency department.
The 98-year-old husband of a patient on the COVID unit had also tested positive. The family urged team members to allow the couple – Carmen and Mary Siciliano – to room together.
Until their bout with COVID-19, they hadn't been apart since World War II, the family explained.
Once determining it was safe to do, Scheier said the team was happy to accommodate the request.
"It's important for us to offer holistic care," she said. "We knew allowing Carmen and Mary to be in the same room would offer emotional support to them and the entire Siciliano family who was quarantining at home."
The couple spent several days together at Good Samaritan, serving as a source of inspiration to hardworking team members, Scheier said. "Their love story brought us joy."
Team members played the couple's favorite songs by Nat King Cole, and facilitated video calls with their children and grandchildren before Carmen died Nov. 12. Team members had pushed their beds together so Mary could hold onto his arm in their final moments together.
Mary, 93, was discharged the next day to a skilled nursing facility.
While losing Carmen was hard, Scheier said caring for the couple is just one example of how Good Samaritan team members provide compassion in the fight against COVID-19.
See more in an ABC7 Chicago piece on Good Samaritan and the family.
Related Posts
Comments
About the Author
Kate Thayer, health enews contributor, is a public affairs coordinator with Advocate Health Care. She spent nearly two decades as a journalist, most recently as a reporter at the Chicago Tribune. Throughout her career, Kate has written about public health, politics, government, education and legal issues, along with human interest stories. She enjoys running, podcasts and her twin daughters.