Are you having a baby during the pandemic? Here's what you need to know.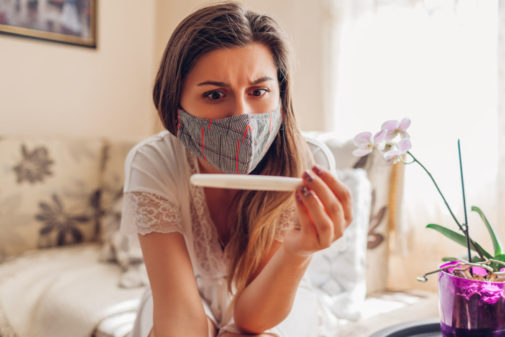 The COVID-19 pandemic has thrown a lot of plans for a loop, but for many expectant parents, a due date is a due date.
Three OB-GYNs from Advocate Health Care answered a few of the most frequently asked questions they've received from patients over the last several months about staying safe and supported before, during and after giving birth during the pandemic.
"What are you doing to keep people safe in the hospital during the pandemic?"
Dr. Melissa Dennis, Advocate Illinois Masonic Medical Center
"We're taking lots of steps to keep you and your baby safe when you come visit us up on Labor & Delivery. Some will be pretty obvious to you – like we're all walking around with masks – and you will see us washing our hands regularly and cleaning high touch surfaces.
"Some things you won't see are that we are screened and have our temperature checked every time we walk into work and we are limiting the number of people that can visit the unit. When you come onto the unit, you will also get screened to make sure we are all keeping each other safe."
"Am I at a higher risk for getting or dying from COVID-19 if I am pregnant?"
Dr. Alexandra Gobolof, Advocate Christ Medical Center
The virus is still new, and there is a lot we don't know about, but historically speaking from respiratory infections that have happened in the past, we do know that pregnant women are at a higher risk for complications, which is supported by recent data. The good news is that the death rate does not seem to be increased for pregnant women with COVID-19. Ultimately, please remember: CDC guidelines still apply for how to protect yourself, and you should take steps to stay healthy for you and your baby."
"If I have COVID, can I spread it to my baby?"
Dr. Dennis
Based on the information we have, the risk is low, and if the baby does have COVID-19, they tend to have a very mild case. We also know that if you are pregnant and sick with COVID-19 at the time you deliver, the same things you do to keep others safe are the things you can do to keep your baby safe:
Wear a mask when breastfeeding
Keep a safe distance when not directly caring for your baby
Wash hands religiously
Keep your hands away from your face
"Can I expect the same care and support during the pandemic as I would before?"
Dr. Leah Delfinado, Advocate Illinois Masonic Medical Center
Being a new parent can be pretty socially isolating, and during the COVID-19 pandemic, some of us are struggling with a little bit extra. But before you leave the hospital, we offer you a telehealth visit to ensure you're not suffering from postpartum depression or the postpartum blues, which are both common and treatable. We are still able to refer you to the same services you would want after giving birth, like classes, lactation consultants and mental health referrals.
We want to make sure you have a safe, healthy delivery and a safe and healthy life afterwards – just with a bit less sleep.
Related Posts
Comments
About the Author
Nathan Lurz, health enews contributor, is a public affairs coordinator at Advocate Good Samaritan Hospital. He has nearly a decade of professional news experience as a reporter and editor, and a lifetime of experience as an enthusiastic learner. On the side, he enjoys writing even more, tabletop games, reading, running and explaining that his dog is actually the cutest dog, not yours, sorry.