'When I try to sleep at night, I hear him gasping for air'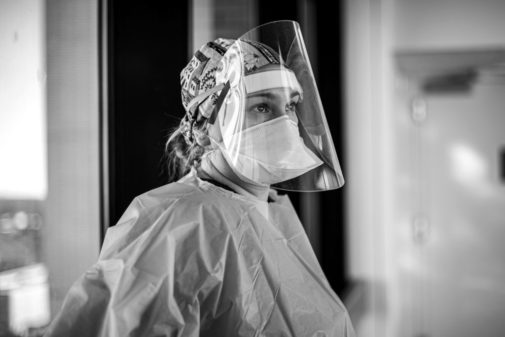 Not long ago, registered nurse Stephanie Rich heard a sound she'd never heard before.
A few months ago, her cardiac unit at Advocate Christ Medical Center in Oak Lawn was transformed to treat COVID-19 patients.
Then just last week, Rich was helping out a relatively young, healthy COVID-19 patient who was struggling despite being given maximum oxygen. Before she heard the sound, she saw his eyes, fearful and full of tears.
"He was looking directly at me," Rich said.
Then, she heard it.
"It's not the sound of a cough, but rather him gasping for air," she said. "And that is a sound, that I'm telling you, that no nurse will ever forget. That's a sound I've never heard in my life. When I try to sleep at night, I hear him gasping for air."
It's a scene that's played out over and over as doctors, technicians, therapists and nurses like Rich toil for longer hours and adapt to new roles to fight increasing COVID-19 case numbers. Christ Medical Center is often in the thick of the battle, with Illinois case numbers setting new daily records throughout the fall – even topping out at more than 15,000 new cases in one day last month.
Rich's manager at Christ, Kathy Koch, is a 43-year nursing veteran, including nearly 30 years in emergency medicine. She says what these young nurses are going through now will define their careers and lives.
"At the end of the day, you look at them and just see the lines on their faces," Koch said. "I'm just truly, truly in awe of them."
Rich has been a nurse for four years and recovered from COVID-19 herself back in April, at a time when community spread was increasing. The daily grind can be hard, but she finds great comfort in her relationships with her coworkers.
"That is the big picture of nursing during COVID," Rich said. "Yes, we are all so physically and mentally tired, but we all keep pushing every day. And it takes a lot of teamwork, because you can't get through it alone."
"They think I'm very goofy," Rich says of her teammates. "If I think they're having a hard day, I'll just call them up and sing to them."
The song she chose: "Mele Kalikimaka," the Hawaiian-themed Christmas tune sung by the velvet-voiced Bing Crosby that has hardly any place in harsh Chicago winters. Rich says she knows it as the song from a scene in "National Lampoon's Christmas Vacation," when a forlorn Clark Griswold looks longingly out a window of his over-decorated home and envisions a pool party.
"Mele Kalikimaka" plays as Griswold dreams of better times. Rich sings the song to her teammates when times are tough.
"I just start singing to them and they just start cracking up," she says. "You've gotta make them laugh. They're always there for me."
Koch said that teamwork is critical. She compares nurses' COVID-19 work to a platoon of soldiers that face real danger every day and need to support each other to get through.
"Every single day, we're challenged to lead these groups and keep them safe ," Koch said. "I wish the public could really understand the importance of joining us in this battle against COVID 19 – we ask you to stay safe."
The work follows them home from the hospital. They worry about infecting the families they live with. Rich hears the sound of gasping when she tries to sleep.
"I was at the right place at the right time to hear him making those sounds," Rich said.
Although the sound haunts her, Rich being there to hear it meant the patient's urgent problem was identified quickly, and the patient could get the needed care immediately.
And the sound is a reminder of why she wanted to be a nurse.
"This is my calling," Rich said. "This is how I know, even during these tough times, I was made out to be a nurse. This is what I signed up for. I want to be a nurse. I want to be there for those patients, and I want to be there in those critical moments."
Related Posts
Comments
About the Author
Mike Riopell, health enews contributor, is a media relations coordinator with Advocate Aurora Health. He previously worked as a reporter and editor covering politics and government for the Chicago Tribune, Daily Herald and Bloomington Pantagraph, among others. He enjoys bicycles, home repair, flannel shirts and being outside.