Finding meaning in caring for her community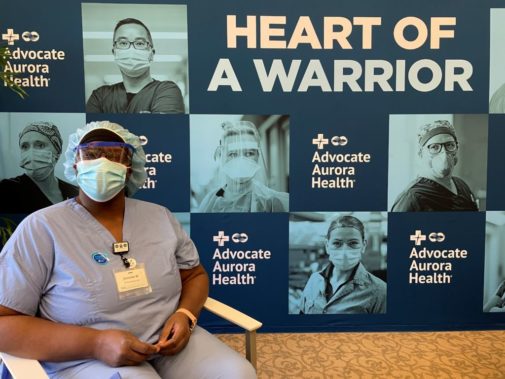 As a Black woman and a health care worker, Annette McCray finds a lot of meaning in treating Black patients who come in for colonoscopies and other procedures. Because African Americans have higher rates of colon and prostate cancer, it's especially important for outreach and screenings to make sure they have access to the care they need.
"I've had patients say, 'I'm glad to see a sister working on the team.' It puts a smile on your face," said McCray, GI technician lead at Aurora West Allis Medical Center. "They feel like they'll be OK."
McCray's grandmother, who worked at Aurora St. Luke's while battling leukemia and raising 11 kids with her grandfather, was her inspiration for joining a profession in the health care field. But it was also important to McCray that she work for an organization that values diversity, equity and inclusion.
"I've personally never felt like I've been held back because of my race or being a woman. My managers always treated me with respect. They gave me every opportunity out there and I took it and ran with it," said McCray. "One of the things that drew me to Aurora West Allis was all the stuff we do in the community for things like Black History Month and for LGBTQ people. It reminds me of one of my favorite quotes by Dr. Martin Luther King, Jr., 'Our lives begin to end the day we become silent about things that matter.'"
When the pandemic hit, her dedication didn't waver. McCray – like many other health care workers – was temporarily reassigned both as an employee screener and assisting in the ICU to help bridge the gap in staffing shortages. Through it all, she kept a positive attitude and looked at the bigger picture.
"I felt good about that that I was able to lend a hand to another department that needed it," said McCray. "It was a good experience for me. I met some new people. I got to see what other people did and what their job entails."
Now that McCray is back to her normal role helping with procedures, managing her team of technicians and training other team members on new equipment, she's hoping other things will continue to get back to normal as well. When the COVID-19 vaccine became available, she eagerly accepted the opportunity to get hers. In fact, she received the 1000th dose administered at Aurora West Allis.
"I wanted to do everything I could to protect myself from COVID," said McCray. "If it meant getting the vaccine, I'm all for it. I'm proud of myself that I got it done."
Click here for more stories about doctors, nurses and others working on the front lines.
Related Posts
Comments
About the Author
Ben Hoekstra is a public affairs coordinator with Advocate Aurora Health. He previously worked in marketing and PR for various Milwaukee nonprofits and received his master's degree in Corporate Communications from Marquette University. He enjoys the outdoors, cooking, and all things Milwaukee.