Nurses should engage in self-care regularly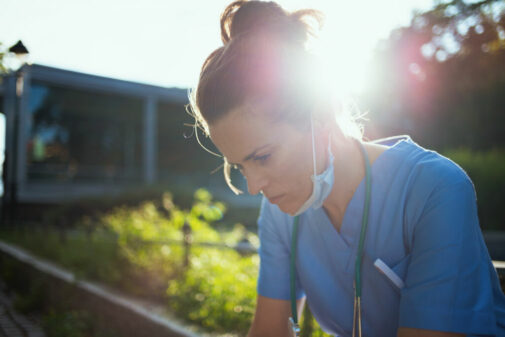 The World Health Organization defines self-care as "what people do for themselves to establish and maintain health, and to prevent and deal with illness."
Self-care is a skill nurses and other clinicians within the health care field often neglect for themselves even though it is vitally important. It decreases stress levels and can help you live longer, healthier lives. Stress can contribute to chronic disease, chronic fatigue and depression. According to a 2012 survey of 2,500 registered nurses, 71% experienced musculoskeletal pain and 18% experienced depression.
"While some may think of self-care as a treat we occasionally give ourselves, we should see it as an intentional and sustainable practice embedded in many aspects of our lives," says Paula Carlton, a nurse practitioner specializing in family medicine and weight management. "Self-care is important to maintain and deepen health, well-being and joy. Taking care of ourselves can mean improvements in our physical health, self-esteem, management of our stress and even relationships. It can involve physical, mental, social, emotional and spiritual wellness."
Here are some simple tips for self-care from Carlton:
Physical: Go outside and take a breath of fresh air. This can result in immediate reduction in stress, improve your sleep and gives you vitamin D.
Mental: Create a positive mantra for the rest of today. This could be repeated throughout your day acting as a great reset in the practice of mindfulness.
Social: We all have different social self-care needs such as time with family, friends, a good talk with a fellow colleague or even, recognition that quiet time helps improve those social interactions.
Emotional: Gratitude journaling is a great nightly wind down practice to identify what you are grateful for, what went well and what was positive about your day. Or try the meditation tool on the LiveWell app.
Spiritual: This can be about a religious practice or it may be the practice of exploring a meaningful connection with something bigger than yourself. Sit in silence and ground yourself in the space around you. Smile, close your eyes and notice each part of you.
"Many of us who work in medicine do so because we feel the need to serve others and care for them," says Maggie Waldoch, a registered nurse who participated in a Well-being and Practice Renewal Day at Advocate Aurora Health. "Our organization does a wonderful job recognizing that many of its staff chose this career due to a sense of calling, whether that be from a higher power or a desire to serve one's fellow man. At the Practice Renewal Day, there was space to reflect on why I became a nurse and what motivates me to provide the care I do. It made me feel valued and heard, that nurses work to serve a higher purpose and have a need to connect with that." Read more.
Related Posts
Comments
About the Author
Amy Werdin, health enews contributor, is a provider public affairs coordinator with Advocate Aurora Health. She has been with the organization for 19 years, starting out in marketing for Advanced Healthcare, then Aurora Health Care and now in her current role. She enjoys reading, movies and watching her two daughters dance and her son swim.