ICU nurse: 'We won't give up' the fight against COVID-19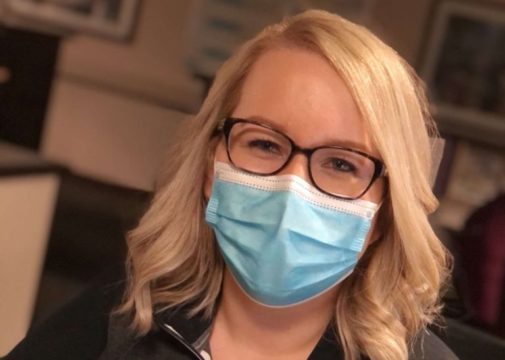 Health care workers have faced COVID-19 head-on for almost a year, and while surges in illness challenged hospital staff, diligent and hard-working nurses that make a big difference in battling the pandemic.
Taylor Wheeler, an ICU nurse at Aurora BayCare Medical Center in Green Bay, joined the medical field in 2015, where she began her career in various healthcare settings that included long-term and intensive care.
Since March 2020, Wheeler has spent the bulk of her shifts working on the COVID-19 ICU floor. She explains that while working with the critically ill, it is important to carve out time not only to socialize with the patients, but to update the family while their loved ones are in the hospital. With visitor restrictions, she believes that communication with family members is more important than ever. Wheeler explains that she is well-aware of the depressive state that isolated patients can adopt when receiving care and strives to combat this with consistent socialization.
Wheeler explains that while messaging on the importance of masking may seem overdone, it is important to remind ourselves that we are not only wearing a mask for our own personal well-being, but for the community around us.
"COVID does not discriminate based on age, we have patients of all ages who are suffering and dying of this virus on a daily basis," she says. "It's important that we work as a community to stop the spread."
Like many during the pandemic, Wheeler has felt the weight of the pandemic in more ways than one. With juggling her childrens' virtual and in-person learning, working overnights, and being a student herself, she has been presented with a new and difficult challenge of balancing work and family.
Wheeler explains that despite these struggles, the teamwork in the ICU unit of Aurora BayCare was nothing short of amazing. She explains that the team is dedicated to "fighting to improve patient outcomes – and we won't give up."
Related Posts
Comments
About the Author
Brianna Wunsch, health enews contributor, is a public affairs coordinator for Advocate Aurora Health with a BA in public affairs from University of Wisconsin - Green Bay. In her free time, Brianna enjoys living an active lifestyle through biking, hiking and working out at the gym, but even more than that, she especially loves spending quality time with her two cats (Arthur and Loki), son and husband.