Updated CDC guidelines for vaccinated people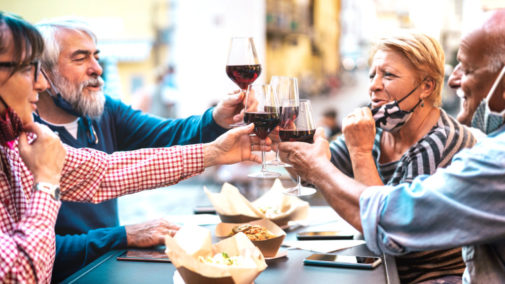 After months of social distancing and pandemic blues, an announcement from the Centers for Disease Control and Prevention (CDC) offers a bit of hope: If you are fully vaccinated against COVID-19, you may be able to gather like it's 2019.
New guidelines issued Monday say people who are fully vaccinated can gather indoors with other fully vaccinated people without wearing a mask, and also gather with unvaccinated people from one other household without masks, unless any of those people, or someone they live with, has an increased risk for severe illness from COVID-19. These recommendations are for non-health care settings.
In addition to relaxed gathering guidelines, the CDC update also says vaccinated people do not need to quarantine or get tested if they have been around someone who has COVID-19. This applies to everyone except those who live in a group setting, like a correctional, detention facility or group home, who are still encouraged to stay away from others for two weeks and get tested, even if they do not have symptoms.
Despite these changes, vaccinated people should still adhere to the safety guidelines that have been in place during the pandemic when in public, including: wearing a mask, social distancing and avoiding crowds and poorly ventilated spaces, the CDC said. Travel, both international and domestic, should still be delayed, and people should still watch out for COVID-19 symptoms — should they develop any — which would require testing and quarantine.
"Returning to normalcy is going to be gradual," said Dr. Robert Citronberg, Advocate Aurora Health executive medical director of infectious disease. "While we may see things returning to normal this summer and fall, it's still important to stay vigilant, wear a mask and social distance when you're out in public and around those who have yet to receive their vaccine."
Questions remain about just how effective vaccines are against the new variants, how well COVID-19 vaccines keep people from spreading the disease and how long vaccines can protect people, according to the CDC, which emphasizes the necessity of continuing to adhere to prevention measures.
"We've been saying all along that the vaccine is the ticket out of the pandemic, and this shows why," Dr. Citronberg says. "All three vaccines are safe and effectively prevent serious cases of COVID-19. When it's your turn to get a shot, you should seriously consider stepping up."
Supplies of the vaccines remain somewhat limited, which has frustrated people who want to get a shot. Experts suggest getting whichever vaccine is first available to you. You might be able to get a shot from a pharmacy or local health department before your health care provider.
If you are fully vaccinated, you can:
Gather with other fully vaccinated people indoors without a mask or distancing
Gather with unvaccinated people from another household indoors without a mask or distancing, if they or the people they live with are low risk
Skip quarantine and testing if you are exposed to COVID-19
If you are fully vaccinated, you should continue to:
Wear a mask and social distance in public
Avoid crowds and poorly ventilated spaces
Delay travel
Get tested and quarantine if you develop COVID-19 symptoms
Follow workplace guidance

Check out our COVID-19 Info Center to learn more about the virus.
Related Posts
Comments
About the Author