"It is incredibly rewarding to be a part of their journey"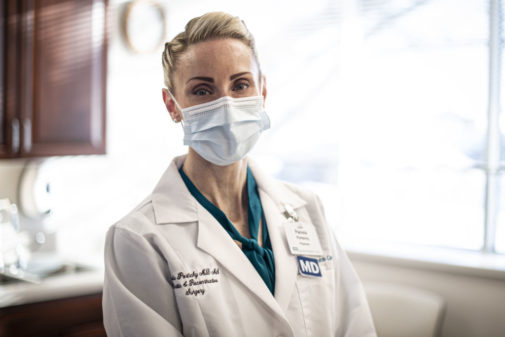 Dr. Pamela Portschy knew at a young age that she wanted to be a doctor. Now as a plastic surgeon with Aurora Plastic Surgery in Sheboygan, she's fulfilling her dream by improving the quality of life for her patients.   
"Knowing that I can have an impact on people's lives and how they feel about themselves is a big inspiration for me," says Dr. Portschy.  
As a plastic surgeon, Dr. Portschy performs a broad range of procedures. From removing a small mole on a child's face, to improving someone's vision with eyelid skin removal, to performing reconstructive surgery on a breast cancer survivor, she finds it incredibly rewarding to play an important role in her patients' journeys. 
"I want you to feel like the best version of yourself, so we are going to work together to get you there," Dr. Portschy tells her patients.  Getting to know her patients and molding treatment plans to their expectations and desires is an important part of her approach. 
Although it's been a challenging year because of the COVID-19 pandemic, if we continue to work together and support those around us, we can move forward and look ahead to brighter days, Dr. Portschy says, "I look at the vaccine as a way to protect patients, family, and society," she says. 
March 30th is National #DoctorsDay. We're sharing stories from physicians at Advocate Aurora Health to recognize them for their passion and dedication to helping people live well. Have a doctor you want to recognize? Give them a shout out in the comments below!
Related Posts
Comments
About the Author
"Hannah Koerner is a Public Affairs Specialist with Advocate Aurora Health. She received her Bachelor of Arts in Communication from the University of Wisconsin – Green Bay. In her free time, she enjoys biking, snowshoeing, and cheering on Wisconsin sports teams."