Life happens. How well do you stay calm and carry on?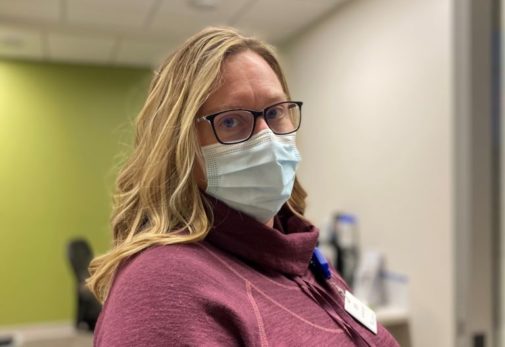 There are times to struggle against the current, and then there are times to let the waters of change carry you to your destination. Surely, if there is anything we've all learned this COVID-19 pandemic, it's just that.
"There was some uncertainty," says Jill Patton, Patient Access Supervisor at Aurora Medical Center – Bay Area in Marinette, Wis., who took on the additional role of COVID-19 Screener Supervisor, responsible for training and onboarding the team members who screened individuals for COVID-19 symptoms as they entered the hospital.
But through it all, Patton – a team member at the hospital for over 30 years – kept positive.
"I've been given the chance to further grow and expand my leadership skills," she reflects. "And I think back to the way it used to be, and the way I want it to be, and what I want most. That's the inspiration."
If you are a person who struggles with going with the flow and accepting uncertainty, here are some strategies to try:
Take inventory of what you can control and what you can't. Just being aware of the distinctions between the two can help you move forward. However, when you look at the list of things you cannot control, tell yourself that it is okay if you can't control those things.
Make a list of the positive things that will come out of the situation. Even if it's a bit of a stretch, being able to see how you could benefit or grow allows you to accept anything coming your way.
Know that there is support available. Pick up the phone and call a loved one to talk through it, or make an appointment to speak with a therapist to help you navigate the situation.
Just breathe. Take a moment to slow down and simply be.
Realize it's okay if you don't become a laid-back person overnight. Be gracious with yourself. Rome wasn't built in a day, and it's okay if it takes you longer than that to be the kind of person who handles change with calm.
As for Patton, she's looking forward to better days where she can hold her newborn grandson. But to do so, she recognizes the COVID-19 vaccine is our best shot at a better tomorrow.
"I realized that if I wanted something to change, I needed to do my part to change it," says Patton. "I might not be able to do it myself, but together, we can do it."
Click here for more stories about doctors, nurses and others working on the front lines.
Related Posts
Comments
About the Author
Brianna Wunsch, health enews contributor, is a public affairs coordinator for Advocate Aurora Health with a BA in public affairs from University of Wisconsin - Green Bay. In her free time, Brianna enjoys living an active lifestyle through biking, hiking and working out at the gym, but even more than that, she especially loves spending quality time with her two cats (Arthur and Loki), son and husband.