What is narrative medicine?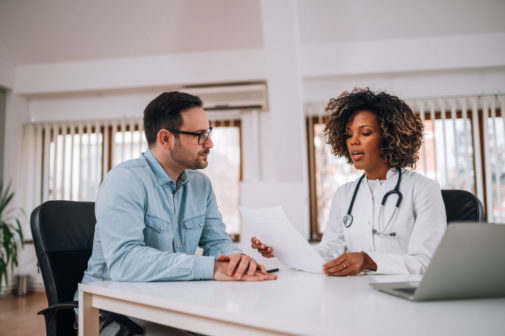 There's no denying that 2020 has been a year of immense stress for all – and maybe none more acutely than those facing COVID-19 either as a patient or as a health care professional.
To help combat stress, Dr. David Thoele, Pediatric Cardiology Specialist at Advocate Children's Hospital in Park Ridge, said the narrative medicine program he is helping to lead has become an increasingly useful tool in reducing anxiety and building connection.
Narrative medicine is a practice that encourages patients to share personal narratives with their provider to promote healing. The approach focuses on creating a connection between the patient and doctor through the sharing of stories and emotions.
Dr. Thoele said he found the most effective way to get participation in narrative medicine was to create  a short, simple writing exercise.  After trial and error, he developed the "3 Minute Mental Makeover" – or 3MMM. Both the doctor (or nurse, or other health care provider) and the patient write down: 1. Three things they are grateful for; 2. The story of their life in six words; and 3. Three specific wishes. The practitioner and patient share their entries, which starts a conversation. The narrative medicine program is focused on telling stories, listening closely, writing and sharing to facilitate healing. They've even started a Narrative Medicine Group community with monthly meetings to help facilitate support of the practice.
A huge benefit to the program, Dr. Thoele said, is re-humanizing health care and increasing capacity for empathy and self-reflection.
"It creates this dynamic and brings out emotions," Dr. Thoele said. "It helps to create a connection between the doctor and patients. Even macho men I've worked with have responded well to the 3MMM. The process has proven to not just have a benefit for the patients and their families, but also for our nurses, doctors and staff. We feel stress levels go down and better communication occurs when we share a little bit of ourselves."
Since he and Dr. Marjorie Getz began the narrative medicine program in 2013, the group has grown immensely. This fall, the program called "Narrative Medicine: Expansion to Reduce Stress and Burnout in Patients/Families and Providers and Improve Communication in the Therapeutic Relationship."
Dr. Amy Stewart, Trauma Surgeon at Advocate Lutheran General Hospital, is also a leader in the program and has seen success among her adult patients. She began working with her ICU patients to write "ICU diaries" and has since seen this practice decrease the incidence of PTSD after an ICU stay by more than 60%. The ICU Diary contains a calendar of events or milestones, photographs of both the patient and ICU and entries from staff or family.
Dr. Stewart said the process of narrative medicine humanizes the physician – something essential to developing a connection and providing the best care possible.
"When I open up – like sharing that I'm also a musician – they start asking questions such as, 'What instrument do you play?'" Dr. Stewart said. "Now I'm not just a serious professional doctor who comes in and tells them a bunch of bad news and runs away. I'm actually interacting with them; they're learning about me and I'm learning about them. It stimulates a real conversation and you become a person. You're no longer just a stethoscope."
Dr. Stewart said the process of narrative medicine is not just something you take part in at the hospital and forget – it becomes a tool in your toolkit for life.
Lynne Schwartz, whose daughter Haley is a patient of Dr. Thoele's, is now a member of the Narrative Medicine Group and a volunteer advocate. Schwartz believes one of the enormous benefits of the program is it helps to create more of a teamwork relationship between the doctor and the patient – giving the patient the tools to better communicate with the doctors and join in the process of their care.
"My daughter was able to reflect on the progress she was making – even when it felt like things were moving slow," Schwartz said. "The process helps you to realize there are things in your life to be grateful for even when you're in the midst of feeling like there's not."
With the exciting news of the recent grant, Dr. Thoele said he and his team are planning to improve and expand Dr. Stewart's diaries program, hire a part-time program coordinator, and develop a phone app to bring the benefits of narrative medicine to patients and associates at ALGH and throughout Advocate Aurora.
"We recognize this is a stressful time, so we're sharing techniques of mindfulness to help people cope," Dr. Thoele said. "We're also meeting as a group via Zoom twice a month. We're here – and we welcome anyone to join our group and get on the mailing list."
The Narrative Medicine Group Dr. Thoele and Dr. Getz started a Facebook group called "The Weekly Breather: Telling Our Stories" to allow narrative medicine participants – and anyone interested – to reflect, connect with others, and heal.
Dr. Thoele said he welcomes people to join the Narrative Medicine Group, even if they're not currently patients or health care providers at Advocate Aurora Health. The group, focused on creative writing, sharing, meditation, meets via Zoom from 8 to 9 a.m. the first and third Tuesday of every month. To join, simply send an email to david.thoele@aah.org and ask to be added to the email list.
Dr. Thoele and local poet and Narrative Medicine Group participant Sheri Reda are working to widen their circle to help other health care workers who are burdened by professional grief. A free workshop will be offered by Zoom from 7:30 to 9 a.m. on Dec. 7. The workshop will be facilitated by the editors of the book "The Healer's Burden: Stories and Poems of Professional Grief" and featuring Reda and other contributors. Click here to register for the event.
Related Posts
Comments
About the Author
Bridget Kozlowski, health enews contributor, is a public affairs manager with Advocate Aurora Health. She holds a masters degree in Public Affairs and a bachelor's degree in journalism, both from the University of Missouri. Bridget previously worked as a reporter for the Chicago Tribune and has also lead local government communications teams for both the City of Sterling Heights, Michigan and the Village of Lombard, Ill. Bridget loves trying new restaurants, traveling and spending as much time as possible with her son, husband and rescue mutt.