Is your child a picky eater? Check out these tips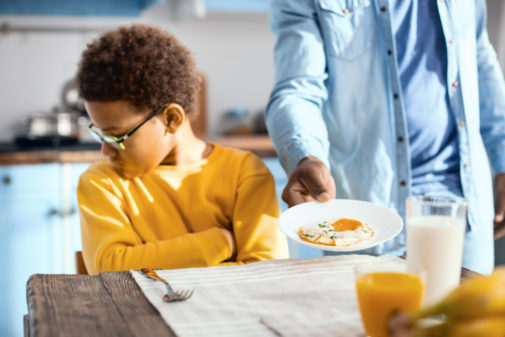 Hate tomatoes? Does the very thought of Brussels sprouts disgust you? Whether or not you actually consider yourself a picky eater, your selectivity may be affecting your children.
Barbara Fine, a registered dietitian at Advocate Children's Hospital in Park Ridge, Ill., says it's important for parents to be good role models and provide foods they don't like to their children.
"Children can become picky eaters from their personal disposition, food preferences or it can sometimes be related to a history of sensory or behavior issues and foods they are provided," she says.
Fine adds that parental exposure, or lack thereof, to a variety of foods can limit kids' exposure to a variety of foods, as well. She explains repeated exposure up to 15 times can lead to acceptance.
So what can parents do to widen both their dietary horizons and their children's?
"It can be a mindset – we are able to talk ourselves in and out of what foods we might like," she says. She also offers the following tips:
If you don't like a certain food, be polite and say "no thank you" in front of your child. Avoid using negative words, especially "yucky" or "icky."
Use descriptive words to talk about foods instead. Talk about the texture of foods using words like crunchy, soft or chewy.
Don't use food as a reward by saying things like, "if you eat one more bite, you can have dessert."
Include your child in the process of eating and trying new foods. They can pick out something new to try, especially when it comes to fruits and vegetables. Encourage younger kids to eat their colors – five different ones each day.
Give your child one food they currently eat along with a new food to ease them into trying something new.
Kids can help in the kitchen or watch foods be prepared.
"I know all these things can be easy to say, but putting them into action is not easy," she acknowledges. "It's a process, and it takes time, patience and consistency. It's important to foster a positive feeding environment. Don't pressure kids to eat or react to them by drawing attention if or when they do or don't eat. I teach the division of responsibility: parents provide the food, and kids choose what and how much to eat."
Thinking you can skip the food introductions and sneak more nutrition into your child's meals instead? Think again.
"When we sneak foods like fruits and vegetables into foods, kids can be distrustful, which can ultimately lead to a more limited diet," she says. "Smoothies, soups, pasta and baked goods are great ways to add fruits and veggies. Seasoning can also help. Vegetables are bitter, and adding a fat (butter or oil), cheese, some acid (vinegar or citrus) and/or salt can increase the flavor and acceptance of foods."
Related Posts
Comments
About the Author
Holly Brenza, health enews contributor, is the public affairs coordinator at Advocate Children's Hospital. She is a graduate of the University of Illinois at Chicago. In her free time, Holly enjoys reading, watching the White Sox and Blackhawks, playing with her dog, Bear and running her cats' Instagram account, @strangefurthings.