Recommended pause of Johnson & Johnson vaccine ends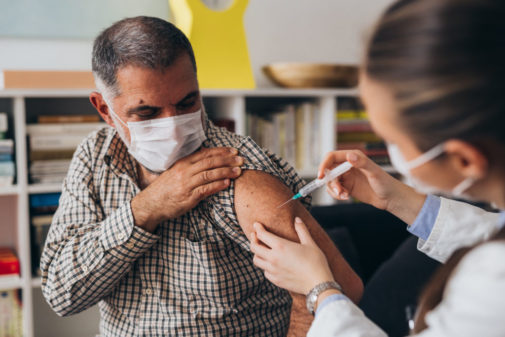 Federal officials have recommended the one-shot Johnson & Johnson / Janssen COVID-19 vaccine go back into circulation, ending their guidance for a brief pause while they verified its safety and that reports of adverse side effects were rare.
"The FDA and CDC have confidence that this vaccine is safe and effective in preventing COVID-19," the Food and Drug Administration and Centers for Disease Control said in a joint statement. "The FDA has determined that the available data show that the vaccine's known and potential benefits outweigh its known and potential risks in individuals 18 years of age and older."
The pause began about two weeks ago following concerns over extremely rare cases of blood clots in patients who had received the vaccine. The CDC and FDA said the move was being made "out of an abundance of caution." As of April 23, the safety review found 15 reports of women who got the J&J vaccine and later developed thrombosis with thrombocytopenia syndrome, a condition involving blood clots with low platelets.
In recommending the shot go back into circulation, the agencies said the risk of the blood clots is "very low."
National Institutes of Health Director Dr. Francis Collins told NBC News on Sunday that "the risk of aspirin inducing a significant intestinal bleed is much higher than what we're talking about here – something in the neighborhood of 1 in 500, 1 in 1,000 for people who regularly take aspirin. We're talking about something here that is about 1,000 times less likely to happen." He also noted you're less likely to experience blood clotting as a result of taking the J&J vaccine than you are to get struck by lightning next year.
"This kind of intense scrutiny is part of the safety process and shows the system works," Advocate Aurora Health Executive Medical Director of Infectious Disease and Prevention Dr. Robert Citronberg says. "The risk of having a serious adverse event is extremely low, so we strongly encourage patients to receive any of the three vaccines available to them as soon as they can."
While the rare events aren't cause for alarm, for three weeks after receiving the Johnson & Johnson vaccine, people should be on the lookout and contact their health care provider if they experience symptoms including severe or persistent headache, blurred vision, persistent abdominal pain, leg swelling or shortness of breath.
"Getting a COVID-19 vaccine is far safer than taking your chances with getting COVID-19," Dr. Citronberg says.
For more information about vaccines, go to aah.org/vaccine.
Related Posts
Comments
About the Author
Mike Riopell, health enews contributor, is a media relations coordinator with Advocate Aurora Health. He previously worked as a reporter and editor covering politics and government for the Chicago Tribune, Daily Herald and Bloomington Pantagraph, among others. He enjoys bicycles, home repair, flannel shirts and being outside.