Emergency room visits have dropped sharply, data shows. Don't wait to get the care you need.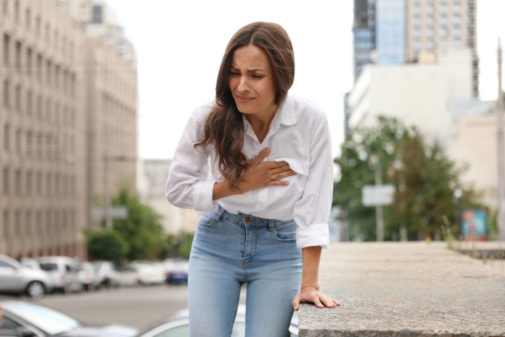 National data reported by the Centers for Disease Control and Prevention show that visits to the emergency room dropped by 42% last spring, a massive decline that could lead to serious medical conditions being missed.
The CDC attributes the drop to fears over the coronavirus, and the drop was steepest among young people and women.
The new numbers raise concerns because waiting too long to get treatment for serious conditions like heart attacks or strokes can be fatal.
Emergency department data collected by CDC surveillance networks indicate some patients may be delaying emergency care during the #COVID19 pandemic. Fewer visits for critical conditions might result in complications or death. Learn more from @CDCMMWR: https://t.co/5oZxCkCXRw. pic.twitter.com/Z6tUdtTVL7

— CDC (@CDCgov) June 3, 2020
Dr. Joaquin Gonzalez, a cardiologist based at Advocate Illinois Masonic Medical Center in Chicago, says if you are experiencing concerning symptoms, you should call 911 or your doctor immediately.
"You're better off asking questions finding out what's wrong than making assumptions and staying at home," Dr. Gonzalez says. "Make a phone call to your primary care doctor or a specialist. They will be able to tell you what kind of care you need."
"And, of course, if you're feeling symptoms that may indicate you're having a heart attack or stroke, don't hesitate to call 911," he says.
Hospitals have taken significant steps to try to ensure that facilities are safe to visit during the COVID-19 pandemic. Advocate Aurora Health has made a Safe Care Promise to patients, a policy that means everyone must wear masks, people can check in virtually, and waiting room chairs are spaced out to try to slow the spread of the virus.
Dr. Gonzalez says that while hospitals work to lower COVID-19 risks, the risk of a heart attack can't be ignored.
You shouldn't let COVID-19 keep you from seeking the health care you need, especially in an emergency. Advocate Aurora Health has made a Safe Care Promise to take additional steps to keep you safe. Read more here.
Related Posts
Comments
About the Author
Mike Riopell, health enews contributor, is a media relations coordinator with Advocate Aurora Health. He previously worked as a reporter and editor covering politics and government for the Chicago Tribune, Daily Herald and Bloomington Pantagraph, among others. He enjoys bicycles, home repair, flannel shirts and being outside.