Advocating for kids: Pediatric nurse care manager helps families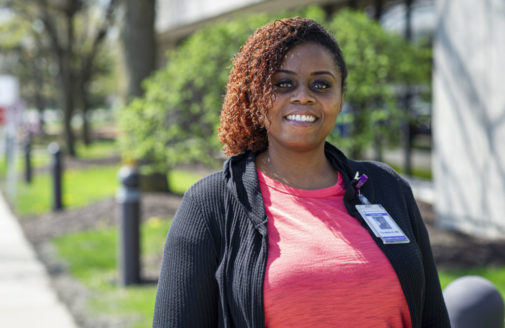 Once pediatric patients are discharged from the hospital, their families often struggle to ensure their child gets needed treatment on an ongoing basis. Tenesha Galvin, a high-risk pediatric nurse care manager in population health, is trying to make it easier for them.
Spearheading the development of the high-risk pediatric program with her fellow nurse pediatric care managers, Galvin makes sure pediatric patients get the same continuity of care as the adult population throughout Advocate Aurora Health, with a specific focus on Chicago's South Side and south suburbs. This continuity of care is at the heart of population health – and it helps improve long-term outcomes for these patients.
"Population health is helping patients live well within the community," she said. "When high risk patients are discharged from the hospital, many times they aren't sure how to navigate the health care system. That's where we step in to help them understand their plan of care and educate them on how to access their care."
The high-risk pediatric program has taken off in the last year with the help of inpatient care managers and physicians. Ensuring the safety of the patients discharged is key. Care managers reach out to the parents once discharged and ensures they have everything they need to thrive; this could include oxygen, medical equipment, medications and other necessities. They also assess the parents for caregiver burnout and support them when needed.
"Our program advocates for our patients who can't advocate for themselves," she said. "To see patients who were hospitalized every month to not being hospitalized for a six month stretch speaks volumes. It means they're learning to manage their care and figuring out who to call before things get worse. That's a huge win."
For Galvin, the pandemic brought to light the need for more pediatric mental health providers. That's why she's pursuing her post-master's degree certification to become a nurse practitioner with a focus in mental health.
She's also very involved in her community, starting a community outreach organization five years ago to help families in need. Last holiday season, she helped provide 25 care packages for single moms who felt the effects of the pandemic.
Are you trying to find a doctor? Look here if you live in Illinois. Look here if you live in Wisconsin.
Related Posts
Comments
About the Author
Amy Werdin, health enews contributor, is a provider public affairs coordinator with Advocate Aurora Health. She has been with the organization for 19 years, starting out in marketing for Advanced Healthcare, then Aurora Health Care and now in her current role. She enjoys reading, movies and watching her two daughters dance and her son swim.