Nurses use cardiac machine and training to help COVID-19 patients breathe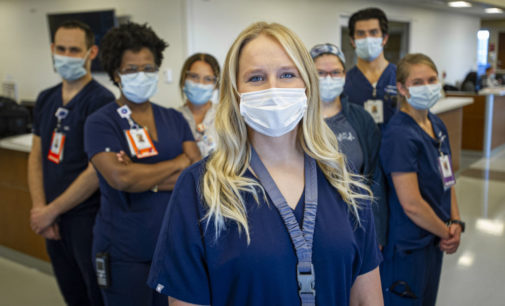 When Advocate Christ Medical Center in Oak Lawn, Ill., began to care for more COVID-19 patients as the pandemic worsened a year ago, nurses on the adult surgical heart unit quickly realized they were uniquely positioned to help.
The unit is trained to administer care on the ECMO machine, which temporarily takes over the work of a patient's heart or lungs so they can rest and heal. Team members quickly recognized ECMO could become an essential tool to help COVID-19 patients struggling to breathe and battle the virus.
"We knew what ECMO allows and how we could use this technology to help patients unable to breathe on their own," said Alexa Doyon, a registered nurse who has undergone extensive training on the machine and how to care for these patients.
The acronym stands for extracorporeal membrane oxygenation, which describes how the machine circulates blood and oxygen through the body.  ECMO is usually used for patients after a severe heart attack or waiting for a heart transplant. It allows patients to be more mobile than when on a ventilator, allowing them to build muscle strength and more easily cough up fluid from their lungs.
Treating COVID-19 patients on ECMO has been a collaboration with physical therapists, respiratory therapists, physicians and others.
"The ways we've worked so well together as a team is the reason why we've had such success with ECMO," Doyon said.
Helping patients recover and return home is a constant reminder of the importance of their work. About 50 patients have been discharged from the ECMO unit since the beginning of the pandemic. The year's challenges – and rewards – have been a reminder to Doyon of why she decided to become a nurse.
"This definitely makes me look back and realize I chose the right profession," she said.
Are you trying to find a doctor? Look here if you live in Illinois. Look here if you live in Wisconsin.
Related Posts
Comments
About the Author
Patrick M. O'Connell, health enews contributor, is a member of Advocate Aurora Health's public affairs team. He previously worked as a reporter at news outlets throughout the Midwest, most recently the Chicago Tribune. He enjoys playing and coaching baseball and basketball, hiking, reading, listening to podcasts, karaoke and spending time in nature with his family.