VIDEO: Experts talk about kids and the COVID-19 vaccine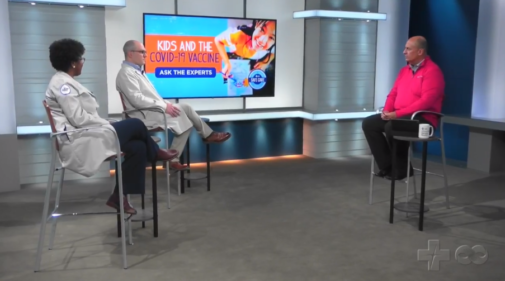 More than half of U.S. adults have received at least one dose of the COVID-19 vaccine. But if you're a parent, grandparent or caretaker of a child, you may be wondering if it's safe for children to receive it too.
"It is safe," said Dr. Markeita Moore, a pediatrician with Advocate Children's Hospital during a recent online event. "We highly recommend it."
COVID-19 case numbers in Illinois and Wisconsin remain high and new daily vaccinations dropped in the month of April. Overseas, places like India and South America are experiencing surging cases, hospitalizations and death. In the last week of April, 22% of all COVID-19 cases were pediatric cases, said Dr. Moore. And in the 12 to 18 age range, there's about a 20% transmissibility rate, experts said.
"Even if (kids) don't get really sick from the virus, they could spread it to family members or to other vulnerable folks in their community," said Dr. Frank Belmonte, chief medical officer at Advocate Children's Hospital.
Children ages 16 and up can now receive their vaccine in both Illinois and Wisconsin, and an emergency use authorization filed by Pfizer for the 12 to 15 age range is expected to be approved imminently. There have been hospitalized children since the beginning of the pandemic, some whom have been quite ill, Belmonte said.
"We know a lot about vaccine science and actually pediatricians are experts in vaccine science, that's what we do on a daily basis," Belmonte said. "We know just a little about COVID virus. We understand what we know now, but we don't understand the long term side effects of the COVID virus, so protecting yourself is really important. We don't know what is going to happen five years down the line."
Dr. Moore and Dr. Belmonte made these comments during a Facebook Live event hosted by Advocate Aurora Health CEO Jim Skogsbergh on Wednesday, and you can watch the full video below.
Related Posts
Comments
About the Author