Are weighted blankets right for you?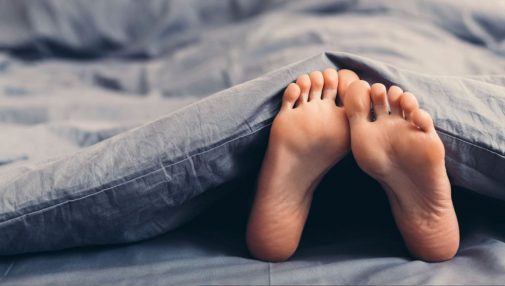 Do weighted blankets really help you get a better night's sleep?
They can, says Linda Wolfe-Stine, an occupational therapist at the Pediatric Development Center at Advocate Children's Hospital.
She says weighted blankets are not an answer for a sleep or sensory processing disorder, but they are a low-maintenance tool that can provide support for those struggling with these issues. More research needs to be done to determine how effective weighted blankets are for managing anxiety, as few studies exist and much of the evidence is anecdotal.
The placebo effect, expecting the blanket to work and so you feel it does, could also come into play when describing its effectiveness. However, if you feel like a weighted blanket is making a positive impact in your life, Wolfe-Stine says it's OK to continue using it.
"If an individual tries a weighted blanket and feels it helps them, then it does," Wolf-Stine says.
While many people can benefit from tucking themselves into a weighted blanket, this type of blanket can be especially helpful for those who are sensitive to light touch or have difficulty relaxing for sleep. The weight of the blanket, which is typically 10% of an individual's weight, may help them calm down, fall asleep faster and with greater ease and stay asleep for longer periods of time. Wolfe says weighted blankets provide a sense of deep pressure, also known as proprioception. The blanket's pressure can have the same calming effects on adults and children that being swaddled has on a baby. A good example of soothing that comes from proprioception is when you or someone you know wants to be covered up by a blanket, even in a hot room. Wolfe-Stine says they're not craving the warmth of the blanket, but the weight, which can make them feel good.
"The idea is that the weight of the blanket can provide soothing, calming and organization of the nervous system," says Wolfe-Stine. "It is also suspected that serotonin, a neurotransmitter that enhances the feeling of well-being and calm, may be released more with proprioceptive input."
Weighted blankets are often used with individuals who have autism, sensory processing difficulties, anxiety and sleep difficulties. Weighted blankets, vests and suits can benefit children during their waking hours, as well. Wolfe-Stine says they are often used during pediatric occupational therapy services.
"It can be calming for children who are sensitive to tactile (touch) input and vestibular (motion) input. Also, the weighted equipment can sometimes assist with improving a child's attention or focus and ability to self-regulate during difficult tasks," says Wolfe-Stine.
Weighted vests can be used with healthy children, teens and adults without risk, but they are not recommended for infants.
Related Posts
Comments
About the Author
health enews staff is a group of experienced writers from our Advocate Aurora Health sites, which also includes freelance or intern writers.