How to run a marathon when you lack motivation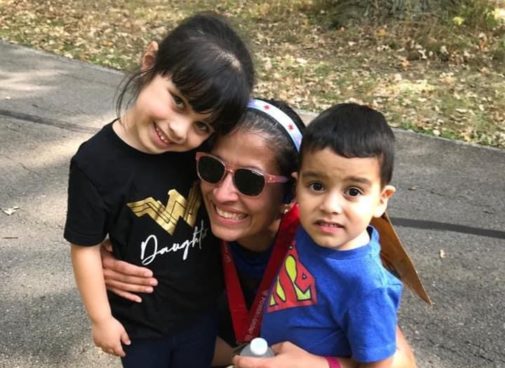 Dr. Melissa Nater never used to run. But now, she's preparing to run her second marathon.
As a pediatric cardiac ICU physician at Advocate Children's Hospital in Oak Lawn, she joined Team Advocate to run the Chicago Marathon and raise support for Advocate Children's Heart Institute. This health fund inspires her and supports her patients.
Since 2011, Advocate's charity running team has raised more than $1 million for programs and services across Illinois. Dr. Nater is supporting pediatric cardiology research, but there are also runners supporting children and adults with Down syndrome, among other causes.
Motivation from her patients
Dr. Nater's running journey started with a 5K as a way for her to get in shape and set a healthy example for her children.
"I remember doing my first 9-mile race and I didn't think I could finish. My running partner said, 'Think about your patients and dedicate a mile to each one.'" Dr. Nater said. "So I said, 'This one's for Kenny. This one's for London.' I thought of patients that have come through so much and it was totally inspiring."
The team at Advocate Children's Heart Institute is like a work family, Dr. Nater said. The patients and their loved ones often come back to visit after being successfully discharged. In fact, a few came to be her cheerleaders last year, when she ran the Chicago Marathon for the first time and raised nearly $1,300 for Team Advocate. It was a long, grueling 26.2 miles that she ran virtually.
Fuel from friends
Early on, when Dr. Nater was adding mileage to her runs, she joined a Facebook group of other physician moms. Their compassion and understanding helped make her dreams of running a marathon seem possible, she said.
"It is hard to find people who understand your journey, the crazy work hours, the level of tiredness from a full-time job and 24-hour shifts, and your guilt as a mom for trying to do it all," she said.
Members of the group now plan their runs together and literally stay by each other's side. "When you are so tired and you think you can't go any longer, having someone by your side who not only understands, but also inspires and supports you makes all the difference," she said.
As Dr. Nater trains for her second marathon, she can't believe how far she's come. But knowing that she's supporting research and care for her patients is what keeps her going.
Related Posts
Comments
About the Author
Tami Hughes is a public affairs coordinator for Advocate Aurora Health. She attended college at the University of Miami and loves watching her Hurricanes play just about anything. She enjoys cooking and going to concerts with her husband. Her heart is made happy by her children, Neenah and Jack, and her dog child, Rizzo.