'I'm very fortunate to have him as my Dad'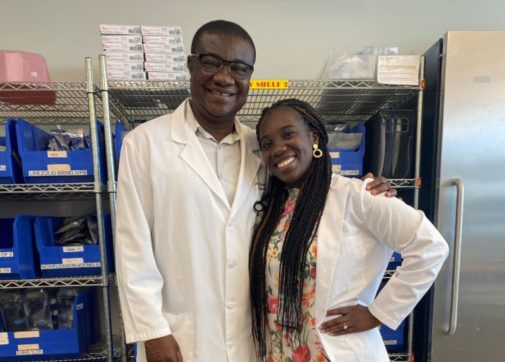 When Pharmacy Clinical Coordinator Sandra Kwarteng decided to follow in her father's footsteps and join the Advocate Trinity Hospital pharmacy team in Chicago, she had no idea her father, Alex Kwarteng, had a life-of-the-party personality.
But after working side-by-side as pharmacists for nearly a decade, the two have developed a special bond that transcends the traditional father and daughter relationship: Sandra and Alex are also friends.
"I feel like I really, really got to know my Dad when we started working together," Sandra Kwarteng said. "I get to see how funny he is and how quick he is with comebacks."
In her first days working at Advocate Trinity, she said she couldn't imagine why so many of their co-workers wanted to know if Alex talks as much at home as he does at work.
"I thought he was quiet," Sandra Kwarteng said with a laugh.
Growing up, Sandra Kwarteng said her mother, Stella, disciplined her and her three younger sisters unless their education was involved. Those instances were when Alex became most vocal at home.
"I was stern when it came to school. Sandra, being the oldest with three sisters behind her, she had to set an example, so we were really tough on her," Alex Kwarteng said.
He also spoke up when Sandra shared she wanted to pursue a math degree in college.
"I asked her what are you going to do with Math? If my money is going to be part of what you're doing, go to pharmacy school so you will have something to fall back on," Alex Kwarteng said. "Once she was in pharmacy school, I asked her 'Are you still going to do something with math?' She told me 'I like pharmacy school,' so everything was OK."
It turned out that her father knew best at other points in her journey toward a career in pharmacy. He was always available to help with her pharmacy homework and he allowed Sandra Kwarteng to shadow him at work in Advocate Trinity's pharmacy. He also encouraged her to apply to work on the team – and that's when their friendship soared.
"When we are here [in the pharmacy] I don't think of her as my daughter. I say that's my co-worker," Alex Kwarteng said.  "It's an honor to have a child to make accomplishments in life."
That feeling is mutual.
"I love him very much and I'm grateful God has blessed me with him as a role model.  I'm very fortunate to be his first born and have him as a Dad," Sandra Kwarteng said.
Related Posts
Comments
About the Author
Cassie Richardson, health enews contributor, is regional coordinator on Advocate Aurora Health's Public Affairs team. She has more than 10 years of experience in health care communications, marketing, media and public relations. Cassie is a fan of musical theater and movies. When she's not spreading the word about health and wellness advancements, she enjoys writing fiction.