How the pandemic is affecting waistlines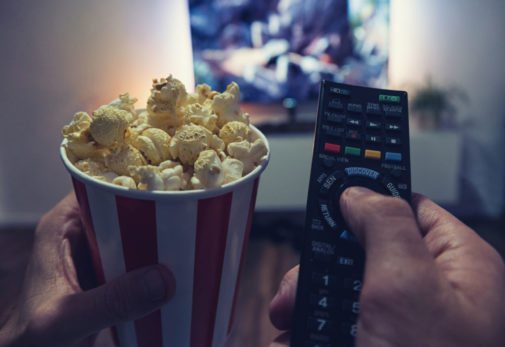 While the COVID-19 pandemic has many obvious health consequences, one is likely seen on Americans' waistlines.
New data from the COVID Symptom Study shows the pandemic has led to more snacking and drinking in the U.S., resulting in five times more weight gain than the classic holiday period pounds.
The ongoing study, created by Harvard T.H. Chan School of Public Health and others, uses an app to study symptoms of COVID-19. A recent nutrition survey on the app that garnered 97,000 respondents, and 31% reported an increase in snacking with an average weight gain of 7 pounds from March through June. Twenty percent of respondents reported an increase in alcohol consumption, resulting in an average weight gain of 4.6 pounds. Average weight gain during a typical holiday season (Nov-Jan), however, is less than a pound, according to the study.
This isn't surprising to the obesity management team at Advocate Good Samaritan Hospital, where they've recently seen an uptick in consultations with potential patients seeking help with weight loss.
While obesity is a risk factor when it comes to COVID-19, "the number one reason patients come to us still is, they want to be healthy," said bariatric surgeon Dr. Allen Mikhail. COVID "is just another push."
Mikhail said while some have embraced quarantine as a chance to maintain a healthy, active lifestyle, others have not. That could be because gyms were closed, or it could mean decreased access to healthy groceries, he said.
All that translates to weight gain during the pandemic.
Recognizing the risk obesity carries and the struggles of quarantine, Mikhail and his team started offering telehealth visits last spring, and that trend continues. Patients who need to go to the office for in-person visits can do so through the Safe Care promise with masking, virtual check-ins and other precautions. Bariatric surgeries also have safely resumed, though not all patients pursue that avenue toward weight loss.
Physician assistant Karli Burridge, director of medical weight management, oversees patients who are seeking weight loss help without surgery, or those who need help maintaining their weight long term, post-surgery.
She said the pandemic has added to patients' stress with fewer options for exercise on top of other general concerns surrounding COVID-19.
"They feel helpless. They need a program and education," she said. "The good news is we can help with all of that, and we can offer it virtually."
To help patients stay on track, they're given options for exercise they can safely do at home, Burridge said. And a nutrition plan tailored to their needs. While everyone's routine has changed, the team helps them develop a new plan, Burridge added.
It's also important to include an emotional component with stress-coping strategies, she said. "You have to really get to know a patient and find out what their outlets are."
Patient Alicia Anderson, 42, of Romeoville, had bariatric surgery in May 2019 after first visiting Mikhail in 2018. Since her surgery, she said she's lost 70 pounds, but her total weight loss is more than 100 pounds.
While the pandemic presents challenges, Anderson said she's maintained her exercise routine because she already enjoyed outdoor activities like biking and walking. Anderson said she's been active her whole life, despite her size. Her passion for working out is what started her journey toward better health – much of it documented on social media.
A video of Anderson working out with a HIIT trainer was posted to social media about five years ago, went viral and was shared by actor Kevin Hart and boxer Laila Ali.
"People were so shocked by my size and my ability to maneuver the way that I was," she said. Recognizing people were drawn to her passion for working out and losing weight, Anderson started documenting her journey on Instagram. She now has more than 27,000 followers.
After years fluctuating weight, Anderson began researching surgical weight loss options and found Mikhail and his team. At first, she kept it to herself.
"I was afraid people would think I was a sell out and taking the easy way out," she said. "Before I made a decision, I focused on making sure I was OK with my decision and knew it didn't matter what anyone else said."
Since then, Anderson has received encouragement from Instagram followers, friends and family, which includes her teenage children. Through Good Samaritan, she's also learned more about obesity as a disease, and how to manage it.
"I wanted to overcome this," she said. "I wasn't trying to find an easy, quick solution. I just want to live my life. I want to love my life."
Want to learn more about your ideal weight range? Take a free online quiz here.
Related Posts
Comments
About the Author
Kate Thayer, health enews contributor, is a public affairs coordinator with Advocate Health Care. She spent nearly two decades as a journalist, most recently as a reporter at the Chicago Tribune. Throughout her career, Kate has written about public health, politics, government, education and legal issues, along with human interest stories. She enjoys running, podcasts and her twin daughters.