Feeling hangry but want to eat healthy? Try this.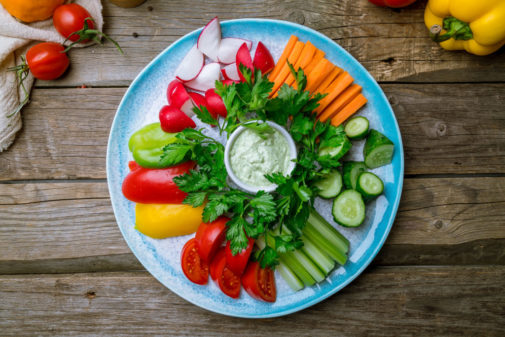 When it comes to children, snacks play a crucial part in learning. Besides helping to meet basic nutrition needs, snacks can help with concentration and focus, and therefore learning new material.
If children get too hungry, they will get cranky ("hangry") and won't be able to concentrate and stay on task. This is important whether they are in the classroom or doing classwork virtually.
Will your kids only eat veggies if there's dip? Here's a quick, delicious and healthy ranch dip that you can make with your kids in under 5 minutes.
They'll be saying "YES" to veggies from now on.
Easy, homemade ranch dip
Serving size: 2 Tablespoons
Nutritional information per serving: 49 calories, 3g fat (0.6g saturated fat), 84 mg sodium, 4g carbohydrate, 0g fiber, 1.5g protein
Ingredients:
½ cup canola or olive oil mayonnaise
½ cup fat-free plain Greek yogurt
½ cup lowfat buttermilk
1 teaspoon dried parsley
½ teaspoon dried dill weed
½ teaspoon garlic powder
½ teaspoon onion powder
½ teaspoon dried chives
1/8 teaspoon ground black pepper
Directions:
In a large bowl, whisk together all ingredients.  Cover and refrigerate for at least 30 minutes before serving to allow flavors to blend together.  This dip gets better the longer it sits.  Makes 12 (2 tablespoon) servings.
Related Posts
Comments
About the Author
Heather Klug, MEd RD is a registered dietitian and cardiac educator at the Karen Yontz Women's Cardiac Awareness Center inside Aurora St. Luke's Medical Center in Milwaukee, WI.