Should you have a sensory wall in your home?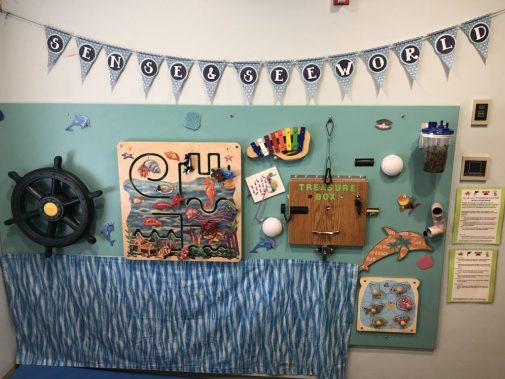 As more of our time is occupied by screens at younger and younger ages, giving kids the opportunity to challenge their sensory system through exploration and play is becoming more important.
A simple and easy way to do this is through designing a sensory wall. A sensory wall is a portion of a wall that parents or caregivers create that allows children to play while using all their sensory systems, including their visual, auditory and touch systems. Everyday objects such as wooden mazes, puzzles, locks, bolts, beads, musical instruments, lights, mirrors, squishy toys and objects that open and close like the lid of a box can all be mounted to a sensory wall for kids to play with.
Through play, parents can help their children improve their hand-eye coordination, hand strengthening, visual motor and visual perceptual skills, logic and sensory awareness, all without the children realizing they're "working" on these things.
"Children learn through their senses, and in today's world of electronics and screens, that's more difficult to do," says Margarita Redmond, a pediatric occupational therapist at Advocate Children's Hospital in Park Ridge, Ill. "Children crave play, and a sensory wall is an easy way for them to explore toys that have a variety of textures, colors and features."
Redmond says any child can benefit from playing with a sensory wall. The key to engagement is finding toys and objects that are motivating and interesting for your child and encouraging them to interact with the wall. Additionally, if a child needs to focus on improving a skill such visual motor skills, the wall should include objects that address this.
Occupational therapists at Advocate Children's Hospital in Park Ridge use a sensory wall located in their pediatric therapy department with patients every day. It has a marine theme and gives children the opportunity to challenge their sensory system in a theme-based environment. Their wall includes objects such as a telescope kids use to the challenge their visual system, a ship wheel that kids can steer to build arm muscles, a treasure box that allows children to use their touch, visual and proprioception (sense of body position) systems to find hidden gems and a "sea shell" that lets kids hear the sea when putting it to their ears.
One of the best aspects of sensory walls is that they are easy to make in your own home. When designing the wall in Park Ridge, Redmond and other occupational therapists collected and used objects that could easily be found at home to show parents it's possible to create their own sensory walls.
"Try to use what you have around the house before you buy anything," says Redmond. "It's best if you use your imagination to make a sensory wall yourself."
Follow these tips to create your own sensory wall:
Pick a theme: Get creative with the wall's theme and engage your child to find out what they're interested in. The wall can have any theme you'd like – from the beach to outer space.
Search for objects in the house: Look for objects that are fun and safe to play with and can be mounted to a wall. Plastic jugs, puzzle pieces, locks, musical toys like a xylophone and mirrors are great options.
Make sure objects address sensory needs: The objects you choose should address a variety of tasks important for development. Objects should encourage kids to use their eyes, ears, hands and body to move objects, open things and play and hear music.
Mount toys to the wall and have fun.
Related Posts
Comments
About the Author
health enews staff is a group of experienced writers from our Advocate Aurora Health sites, which also includes freelance or intern writers.