Working his way through nursing school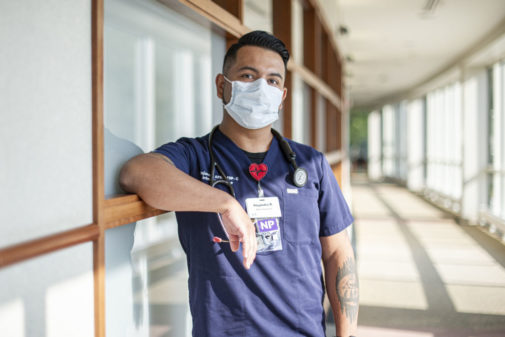 Working in several different roles has made Alejandro Roldan even better at his current one. Starting as a certified nursing assistant at Aurora St. Luke's Medical Center in Milwaukee, Roldan had the chance to learn from his colleagues as he worked his way through nursing school. He then became a nurse on the cardiac transplant floor, where he applied both what he learned in school and what he learned from his fellow nurses. 
Then, three years ago, he finished his master's degree and became a nurse practitioner in internal medicine at St. Luke's. After 10 years at the hospital, Roldan has formed deep relationships with patients and with other team members. His journey has given him many chances to learn, but it's also been a chance for him to be an example for the people that matter most to him – his kids.  
"I do everything for them. I want to teach them to help others and take care of other people, especially when people are most vulnerable," said Roldan. "It's important to see people of color in roles like mine. I want to be a good example for my kids." 
For Roldan, being an example means building trusting relationships with his patients so they feel comfortable talking with him. That relationship is often even more important with his Spanish-speaking patients. 
"One of my favorite things about being bilingual is the look of relief that Spanish-speaking patients have when they know you can understand the language," said Roldan. "The language barrier can make it hard for some patients to communicate to other providers, which is part of the reason I wanted to become a nurse practitioner. There's not that many Spanish-speaking health care providers in the Milwaukee area." 
Understanding where his Latino patients come from has helped inform the way Roldan cares for them in other ways, too — especially as he approaches subjects like homeopathic medicine or the COVID-19 vaccine. 
"In Hispanic culture, it's common to use a lot of homeopathic treatments. I help guide my patients on what will help and on the facts that medicine is based on," said Roldan. "One of the biggest things right now is educating people about the COVID vaccine and protecting themselves. If you're able to, I encourage you to get the COVID vaccine." 
Roldan is originally from Colombia and moved to Wisconsin when he was eight years old. He often feels like people don't understand his home country, but he's glad for the chance to celebrate all that makes Colombia — and every Latino culture — so unique. 
"Colombia is a beautiful, diverse country. We have some of the greatest music and Latinx artists, and we have great food," said Roldan. "Hispanic Heritage Month is a time to celebrate all of our cultures, including people from Central America, South America and Spain. We're a big group that have different cultures and customs. We're very proud of what we've accomplished." 
Related Posts
Comments
About the Author
Ben Hoekstra is a public affairs coordinator with Advocate Aurora Health. He previously worked in marketing and PR for various Milwaukee nonprofits and received his master's degree in Corporate Communications from Marquette University. He enjoys the outdoors, cooking, and all things Milwaukee.