'What kept me going was just the motivation to have a better life'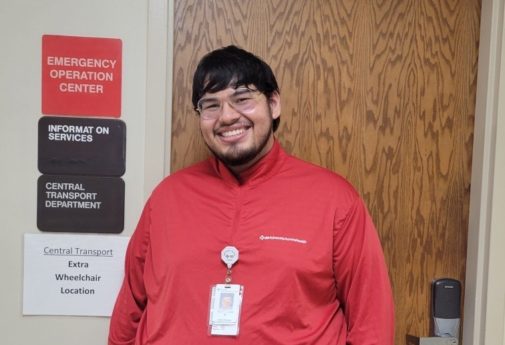 Most evenings Robespiere Nunez, known as Frenchie, can be found pushing patients around Advocate Good Samaritan Hospital – taking them to get scans after an accident, or to a permanent room after an ED visit.
He said his past three years as a transporter is rewarding. He'll see patients at their worst soon after their arrival, but later they're healed when he helps them ahead of discharge.
"You'll take them down to CT in the middle of the night…but then you'll see them get better," he said.
Nunez, 22, takes pride in his role but has goals beyond the transport department.
Before his shifts helping patients, Nunez spends his days also serving as an intern for the hospital's finance department. Later this year Nunez will earn his bachelor's degree in finance and soon after hopes to get a job as a financial analyst. He said his internship, learning how to assist with budget analysis, is preparing him for his long-term career.
Nunez, a first-generation Mexican American, said his parents and older siblings have instilled a drive to learn, earn a college education and build a life where he can provide for his future family.
He said he draws on that during his busy weeks, working two jobs and attending Elmhurst College.
"What kept me going was just the motivation to have a better life," he said. "That's what my parents came over (from Mexico) for. I'm going to make sure my kids have the resources I never had."
While Nunez's parents had a strong work ethic, he said the family fell on hard times, losing a house in a fire and having to move several times. There were also language barriers that presented challenges for his parents, he said, recalling times when his mom was out of work and the family relied on food pantries.
Despite the hardship, Nunez's three older siblings all have degrees and stable careers. His older brother also works in finance.
"I'm definitely motivated after seeing my mom struggle," he said
Nunez also draws inspiration from his supervisors in the transport department and other leaders at the hospital, and he tries to be a role model to his younger cousins.
"They see me in school, and they're motivated to do the same," he said.
Related Posts
Comments
About the Author
Kate Thayer, health enews contributor, is a public affairs coordinator with Advocate Health Care. She spent nearly two decades as a journalist, most recently as a reporter at the Chicago Tribune. Throughout her career, Kate has written about public health, politics, government, education and legal issues, along with human interest stories. She enjoys running, podcasts and her twin daughters.