Finding a calling in healthcare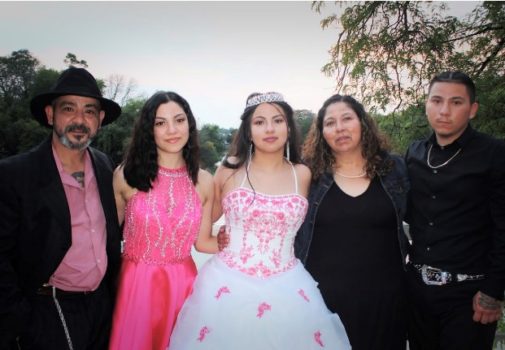 Mari Herrera will never forget the nurse who took great care of her mom when she was terminally ill with cirrhosis of the liver because of an autoimmune disease.  She was only with her mom for two weeks, but the nurse was compassionate and funny, and got her through that difficult time. That experience changed Mari forever and inspired her to work in healthcare.
"I knew this is my calling. I want to be there for people as this nurse was for my mom," Mari recalls.
Mari started working at Advocate Aurora in 2016. She started as a patient service representative and then got a job as a medical assistant (MA) after getting her MA diploma. That was no easy accomplishment since she is also a wife and mother of five. She currently works in the breast clinic at Aurora St. Luke's Medical Center, which she thoroughly enjoys and is passionate about since she lost her sister-in-law to breast cancer in 2018.
Mari helps to room patients, assist surgeons with clinic procedures and schedule new patients. She also translates for Spanish-speaking patients with common questions. This is especially important to Spanish-speaking patients who are scared or confused as to why they need to be seen in clinic. When these patients try to explain pain or express feelings, she tries to pinpoint what exactly is hurting, since sometimes patients don't know how to express pain accurately to a clinician due to the language barrier.
"You might be going through a bad day, but when you think of what patients are experiencing, there is nothing that can compare. To me, they are my heroes" adds Mari.
Mari recalled a story of one Spanish-speaking patient who was told by another health provider outside of Advocate Aurora that she had cancer. She was rightfully upset and wanted to be seen as soon as possible. Mari did some investigating and in pulling up her record and talking with a nurse navigator, it turns out the patient actually did not have cancer. She called the patient back and upon telling her the news, you could hear the relief over the phone. When the patient did finally come in for another appointment, she specifically sought out Mari to thank her in-person.
Even with all of these experiences, Mari wants to do more. She will start nursing school soon and wants to pursue a career in oncology but might also be interested in labor and delivery. She tells her kids about her work in the breast center, and they are grateful to hear the stories and know that their mom is out there making a difference in the community.
"I come from a long line of hard-working women. Being able to feel accomplished and celebrate Hispanic Heritage Month is really special," concludes Mari. "We tend to be looked at differently being Hispanic and more so as Hispanic women. But we are more than a statistic. We are hard working educated women who want to share our knowledge with the world."
Related Posts
Comments
About the Author
Colin graduated from Marquette University with a degree in communications and has more than 10 years of experience in small marketing firms to Fortune 500 companies. Colin is married to his wonderful wife, Brooke, and they have two children. Outside of work, Colin enjoys golf, going to the gym, watching movies (he is a Star Wars nerd), tinkering with his home theater and spending time with family and friends.